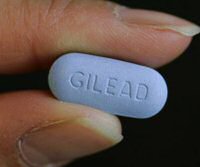 Courtesy of AIDS Health.
The We Can End AIDS mobilization is almost upon us. Happening on July 24th in Washington, DC the WCEA march is a purposefully marked contrast to the formal sessions and panels of the International AIDS Conference, which is returning to the United States for the first time in twenty-two years. The WCEA march isn't about roundtables but rupture -- about creating a definitive break in the stream of (un)consciousness surrounding the lethargy and procrastination to ending the AIDS crisis across the globe, and using our bodies and collective voice to make world leaders, politicians, and soothsayers understand that we will not be silenced, and AIDS will not be forgotten.
The march will descend on DC's streets in five branches, with each branch of the march representing one of the five WCEA demands. One demand is the end to pharmaceutical greed, and making HIV/AIDS treatments and medicines available for all. Let's be clear here: paying for your HIV/AIDS medications isn't like paying for your insulin, Claritin, or Tylenol: it's like paying for another apartment in the heart of Manhattan. HIV/AIDS medications can run upwards of $2,000 per month or more, and recent estimates suggest that the average lifetime cost of HIV/AIDS treatments is approximately $600,000 and up. For those living with HIV/AIDS and have other opportunistic infections, such as tuberculosis or Hepatitis C, the cost of treatment increases. With over 2,000 people currently on the national AIDS Drug Assistance Program, you would think, or hope, that the cost of treatments is gone done to meet the severity and scope of HIV/AIDS infection rates.
Advertisement
Right? Wrong. In 2011, Gilead Sciences, pharmaceutical manufacturer of three HIV/AIDS medications:
Atripla
,
Truvada
, and
Emtriva
, increased the cost of these medications by an
average of 6.5 percent
, despite the AIDS Healthcare Foundation's
call
for major pharmaceutical giants to lower the cost of HIV/AIDS medications. While a 6.5 percent increase may not seem like a steep increase, for those living with HIV/AIDS who are already disenfranchised and burdened with additional barriers like meeting the cost of brokers' fees to find a safe, stable home, 6.5 percent is everything when every dollar counts.
Rather than this trend of costly HIV/AIDS medications decreasing, many fear, including myself, that the costs will only continue to rise right out of the hands of the world's needy. Case in point? Bloomberg News -- under the "Personal Finance" section no less -- released a story about how Gilead's Truvada pill was found to greatly reduce the risk of HIV infection in non-positive people by nearly 95% when taken regularly, with researchers hinting this may be the first clue to developing a full HIV-vaccine. Yet in places where people make less than $2 USD per day, Gilead spokesperson Cara Miller's reassurance that the treatment is sold for as little as $8 USD per month in some low-income countries completely misses the point. It's like a millionaire saying that making $100,000 per year isn't a lot of money. Oh wait, that did happen.
The We Can End AIDS demand to end pharmaceutical greed and make HIV/AIDS medications available to all is more timely than ever before. Companies and the pharmaceutical industries need to put people before profit, global health before branding and copyrights. A good place to start might be by taking the "Gilead" name off of the pill and linking to the number of people treated with their medications rather than their stock portfolio on their website.
Fired up? Good. Join us at the We Can End AIDS Mobilization, and stay tuned for a discussion on the rest of the branches of the march later this week.