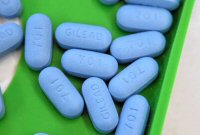 Photo courtesy of Getty Images.
Yesterday, just two weeks after approving the first at home HIV test, the FDA gave using the HIV drug Truvada as a pre-exposure prophylaxis the official nod, an expected decision after an FDA board unanimously endorsed the approval in May. "As part of PrEP, HIV-uninfected individuals who are at high risk will need to take Truvada daily to lower their chances of becoming infected with HIV should they be exposed to the virus," said an FDA statement, adding that PreEP is part of a comprehensive prevention package -- consisting of condom use, regular testing and risk reduction counseling -- not a substitute.
The stamp of approval was based on two studies finding that taking Truvada as prevention reduced new infections by 42% in HIV-negative men or transgendered women who have sex with men who often do not use condoms, and by 75% among heterosexual couples where one partner is positive and the other is negative. Dr. Anthony S. Fauci, Director of the National Institute of Allergy and Infectious Disease, called the decision, "a significant development, providing an important addition to our toolkit of HIV prevention interventions." Officials cautioned, that, like with condoms or any other prevention tool, the effectiveness of PrEP is drastically reduced if not used correctly, so be to sure to get counseling from a professional when taking the PrEP course.
Advertisement
Despite general jubilation, some AIDS advocates naysayed the development. "Today marks a catastrophe in the history of AIDS in America,"
said
Michael Weinstein, President of the AIDS Healthcare Foundation, expressing his concern that approving PrEP would damage existing prevention efforts, lead to
drug resistance
since those taking it might not have access to the resources and counseling often necessary to remain in regular treatment, and possibly cause damage to individuals' kidneys and bones, which he believed isn't worth risking in HIV negative individuals. According to the FDA, while
diarrhea
, nausea, abdominal pain, headache and weight loss were regularly reported by the PrEP participants, "serious adverse events in general, as well as those specifically related to kidney or bone toxicity, were uncommon."
And while PrEP, which, like any HIV drug, comes with a hefty price tag, certainly isn't for all, it may prove the breakthrough resource for reducing new infections in high-risk individuals not reached by other prevention campaigns and practices. "For many people condom use means risking the loss of a relationship or safe housing, or in some cases physical violence. Such people desperately need prevention tools that take such risks into account and that don't require the consent and cooperation of their sex partners," said David Evans, Director of Research Advocacy for Project Inform. "For tens of thousands of people each year the choice won't be one of PrEP versus condoms, but PrEP versus nothing at all."