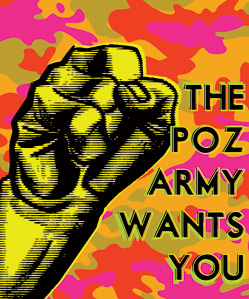 Photo courtesy of POZ Magazine.
The International AIDS Conference will hit U.S. soil for the first time in 22 years this weekend, and regardless of if you'll be in our nation's capitol along with the 25,000 conference participants, or in a state far away, you can help maximize the impact of this week long spot light on AIDS and help end the epidemic.
If you'll be in D.C. sign up to take part in the HIV Legislative Hill Week. A coalition of orgs led by AIDS United is signing up conference participants from every state to visit their legislators on the Hill and debrief them on how to achieve an AIDS free generation. Their resource guide comes complete with a sample meeting request letter, talking points and messaging training.
And regardless of your locale, the POZ Army, brought to you by POZ Magazine, will be providing ways to get involved all conference long on every level, be it chanting at the White House gates as part of the We Can End AIDS March or quietly advocating for needed legislation -- like an HIV resolution introduced in the House last week by Barbara Lee (D-CA) -- from you computer. "We curate all the events out there to make sure everything the POZ Army supports will have real impact," says Regan Hofmann, Editor-In-Chief of POZ, adding that the conference is just the beginning of the POZ Army's Charge. The site, which launched in late May, serves as, what Hofmann calls, "a one stop shop or base camp," to find out about and take part in what AIDS activists are doing nation wide. "It's something you can check in with every couple of days, and say, okay this is what I can do today. I can go to this rally. I can support this piece of legislation."
The army aims to use the power of social media and the internet to coral the disperse voices and efforts of people with HIV and their advocates across the nation into one concentrated force by, for and of HIV positive people, to end AIDS. "We need 100,000 people out there screaming to show the country that this community will not be quiet or invisible anymore," says Hofmann. "We have to finish what we started." See you out there.