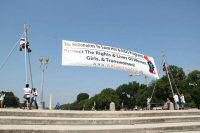 Image courtesy of Student Stop AIDS Campaign.
Last night over some robust IPAs, I was showing my buddy some photos of yesterday's protest at the Capitol Reflecting Pool and she saw that one of the banners said, "Protect the Rights & Lives of Women, Girls, and Transwomen." She looked surprised and asked me, "What does the war on women have to do with HIV/AIDS and the upcoming We Can End AIDS march?"
I think this is a fairly common question and one that definitely warrants some attention. What does HIV/AIDS have to do with the war on women, and what do we even mean by the "war on women?" A simple Google search reveals that the phrase "war on women" will return hits about contraception, mandatory ultrasounds, definitions of rape and personhood, access to abortion services, as well as violence against women, equal pay, and other women-centered discussions. A cursory glance at the first page of sites might suggest that the fight against HIV/AIDS and the war on women are mutually exclusive battle zones.
Advertisement
But we know that they're not
. HIV and AIDS aren't just physical diseases that affect our immune systems and t-cells, they are also diseases that continue saturate our social and cultural interactions with ourselves, our loved ones, and the world we walk in. The shame and stigma and blatant false sciences about HIV and AIDS continue to abound, as Kellee Terrell recently noted on
TheBody.com
, and being positive is still violently spewed as the person's own fault for becoming infected. Take, for example, a
recent comment
that Robert Fullilove, professor of clinical sociomedical studies at Columbia University, made about HIV/AIDS among African-American women:
"A large number of marriageable men were taken out of the community [and incarcerated]. When you have this kind of population imbalance, many of the rules that govern mating behavior in the community are simply going to go out the window. The competition for a man becomes so extreme ... all of the prevention measures [like condom usage] that we've been trying to create over the last 30 years go out the window."
Wow, right? Where to start? I'd like to go into a diatribe about the brazen heterosexualism of his statement and ask what he means by "marriageable men" [did he get this phrase from Cosmopolitan magazine -- I mean really] and "rules that govern mating behavior," which he universalizes here as solely heterosexual, but I reckon that will have to wait for another day. Instead I want to pull apart and focus on this statement: "The competition for a man becomes so extreme…" and the ways it speciously positions women, in his words, as the sole "governors" of mating behavior and using sexual protection. Did you catch it? Did you notice how he blamed women for the lack of condom use because they were apparently competing against other women for men? Did you also notice how, in an article examining the rates of HIV and AIDS in what he calls "Black America," he also blames women for contracting and/or spreading HIV/AIDS because he believes their extreme "competition" for men doesn't warrant the precaution of using condoms? Shockingly absent from his discussion are the myriad of other ways HIV/AIDS affects communities and communities of color, and the ways in which the disease is spread and how access to health care -- a constant challenge for lower-income communities -- impedes the curtailing of the disease.
Is it really so hard to believe that a fight against AIDS must also be a fight against egregious statements made about women? Remember when this guy called a woman a "slut" and "whore" because she was advocating for all women to have access to birth control? That's part of the fight against the war on women. The blaming of women for contracting HIV/AIDS and the erroneous yet steadfast belief that women living with HIV/AIDS are somehow sexually promiscuous? That's part of the fight against the war on women. The dictating and decisions made about women by men, such as the now-infamous all-male birth control panel? That's part of the fight against the war on women.
Women's sexual and reproductive rights, and access to sexual health services need to be reinforced and free from political negotiations and Republican spitting contests. Women living with HIV/AIDS need to have their own voices heard, reflected, and represented.
Rumor has it that HIV+ women and women of color are noticeably absent from speaking on panels and at sessions at the forthcoming International AIDS Conference. If this is true, it speaks to the larger epidemic of sidelining women's voices and further disenfranchising those who already exist on the margins in the fight against HIV/AIDS at home and across the globe.
The "End the War Against Women" branch of the We Can End AIDS March is a chance for all women to be heard, seen, and listened to. It allows us the chance to speak for ourselves and by ourselves, without the white noise of political posturing and male-dominated spaces and discussions. Gayatri Spivak once asked, "Can the subaltern speak?" While it remains to be seen what happens at the IAC, you can be damn sure that we will all be speaking at the march on July 24th. Join us.