Whoa, so, AIDS 2012.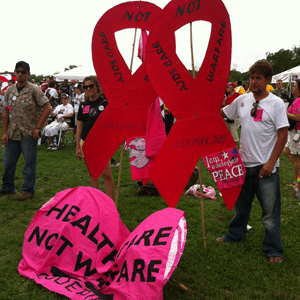 "Healthcare Not Warefare" at the AHF march. (Credit: @ChristieVH)
First, let me say this: People tweet a lot. I covered the tweet beat (so to speak) back in Vienna for AIDS 2010, and it kept me busy, but I was mostly able to keep up. In D.C. this summer? There's just no way. But if the conference's social media presence is overwhelming, well, then that's just appropriate, because the International AIDS Conference itself is pretty overwhelming.
So really, this is just a taste of what I ran across today, while I was combing through retweets and tracking hashtags and all sorts of other jargon-y social media phrases my mom doesn't believe mean anything.
Tweets From Around the Conference
Here are a few tweets about the state of HIV that caught my eye.
The View From Outside
The conference center is 2.3 million square feet. So we're talking really, really big. And yet, as huge as it is, there are also events outside, in the streets of Washington, D.C., and in venues throughout the city.
Opening Session
The conference officially began this evening, and Twitter went absolutely nuts with photos, quotes and more. These are just a few of the hundred:
An Optimistic Note to End On
If you want more pictures from around the conference, be sure to check out TheBody.com's photostream, plus these great galleries from AIDS Foundation of Chicago and the CDC.
If you're tweeting from the conference and want to make sure I'm seeing your updates -- or you want to contribute a picture to TheBody.com's photostream! -- be sure to tweet me at @BeckyAtTheBody.
Becky Allen is the site manager for TheBody.com and TheBodyPRO.com.
Copyright © 2012 Remedy Health Media, LLC. All rights reserved.