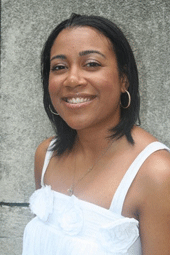 Kellee Terrell, News Editor for TheBody.com
I have a secret to share with you all.
Despite the fact that I have been writing about the HIV epidemic since 2006, this is the first International AIDS Conference (IAC) that I have ever attended.
Shocking, I know.
So, being able to attend AIDS 2012 in Washington, D.C., is such a blessing for me. While my TheBody.com colleagues and I have only been here for a few days, it feels like a family reunion of sorts. I have run into so many people whom I have known for many years, worked with at past jobs or met over the two years that I have been the news editor for TheBody.com.
What has been really amazing is running into the women that Olivia Ford, our community manager, and I media-trained at the Campaign to End AIDS (C2EA) Women's HIV/AIDS Advocacy and Leadership Summit last October in Baton Rouge, La. To see so many of these amazing and brave women at AIDS 2012 speaks to the need for more programs like the C2EA's Women's Advocacy group.
As we embarked on figuring out what we will be covering while we are here for the remainder of the week, one of the first things that people told me was to just accept that I am not going to be able to go to everything, speak to everyone and cover it all. I had to face the fact that I am going to miss out on a lot -- and that's OK.
IAC is enormous, even in pre-conference mode.
With that being said, I had to make a decision about what I wanted to do. And so, for me, my morning activity was an easy choice -- attend the Global Forum on MSM & HIV (MSMGF) pre-conference event, From Stigma to Strength: Strategies for MSM, Transgender People and Allies in a Shifting AIDS Landscape. This all-day event is an opportunity to have a day when MSM and the transgender community can be immersed in conversations that are solely about their communities. And this is sorely needed, as it's estimated that only 5 percent of AIDS 2012 workshops and presentations are geared toward these communities.
Advertisement
This is odd given that MSM account for almost 60 percent of all new HIV diagnoses worldwide.
The pre-conference event kicked off with Rep. Barbara Lee talking about the new HIV legislation that she introduced in Congress along with the stigma that still persists in the U.S. around HIV. Then the honorable Michael Kirby from the Global Commission on HIV & the Law spoke about the homophobia that exists among heterosexual HIV advocates and researchers.
He told the crowd that, "Homophobia is irrational and unscientific." I couldn't agree more.
The morning session closed out with the U.S. Centers for Disease Control and Prevention's Kevin Fenton discussing the state of HIV among black MSM here in the U.S.; the obstacles this group faces in terms of prevention and treatment; and some of the current strategies to address these issues, including the use of PrEP.
From there, there was a series of breakout sessions that went on for the rest of the day. The session I attended was "Common Bonds/Different Journeys: Strengthening the Response to HIV/AIDS Among Ethnic Minority MSM and Transgender People in the Global North." Moderated by Columbia University's Patrick Wilson, the panel included Earl Fowlkes and Michael Hinson Jr. from the International Federation of Black Prides; Andrea Lamour-Harrington, a transgender black woman representing U.S. Positive Women's Network (PWN); Elton Naswood, a member of the Navajo nation from the Red Circle Project; and Richard Zaldivar from The Wall Las Memorias.
Each panelist discussed the intersection of race, class, gender and sexuality in the work that they do and the obstacles that stand in their way of being part of the HIV community as a whole and their own racial and ethnic community in terms of being accepted as being a person of color and being MSM and transgender. They also discussed the work that they have been doing that has been making a difference in their communities. I appreciated this conversation so much, because there are so many issues that people of color have to deal with in order to do that work that must be addressed.
After lunch, Olivia and I headed over to the Walter E Washington Convention Center to get our badges so that we could set up our booth at the Exhibition Hall (booth 96 - if you are here, please come by and say hello!).
And then the real fun began.
We headed over to Busboys and Poets on K Street to attend the PWN reception. We arrived 10 minutes late, thinking that we were early, only to arrive to a packed room full of advocates and women living with HIV dancing, eating and enjoying a cocktail or two. This was also another opportunity for me to see people who I love dearly, but haven't seen in a while, such as the PWN staff -- Sonia Rastogi, Naina Devi and Brook Kelly. I also ran into Women With A Vision's Deon Haywood, AIDS Foundation of Chicago's Julie Davids, POZ's senior editor and my mentor Laura Whitehorn, and Vanessa Johnson formerly from AIDS Foundation Houston. I also, for the first time, got to meet women living with HIV who I had only met prior on Facebook or Twitter, such as Maria Mejia.
There was so much love in the room and excitement about what these women in the room could accomplish, not only at AIDS 2012, but in the future. Most important, though, this conference confirms my belief that working at TheBody.com is more than just being a journalist and covering a beat, it's about being part of a community that treats you like you are family.
Cannot wait for tomorrow!
FYI: I am covering different workshops and events throughout the week in addition to blogging about my own personal experiences at AIDS 2012. Not to mention, I am live tweeting from the conference, too! Follow me: @kelleent.
Kellee Terrell is the former news editor for TheBody.com and TheBodyPRO.com.
Copyright © 2012 Remedy Health Media, LLC. All rights reserved.