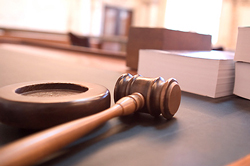 David Plunkett, an HIV-infected man who was convicted of biting a police officer, was released from prison on Thursday, July 19. The New York Superior Court ruled that a person living with HIV biting another person does not constitute a deadly weapon or dangerous instrument under New York's state law. Mr. Plunkett had been serving a 10-year sentence at the Sing Sing prison after being arrested at a medical clinic and biting a police officer's finger. Many HIV/AIDS activists had expressed strong concern that Mr. Plunkett had still been incarcerated three weeks after the court's order. In a statement made to AIDS United on Wednesday, Peter Cutler, the Director of Public Information for the New York State Department of Corrections and Community Supervision, confirmed that Mr. Plunkett would be released on Thursday. In the statement Mr. Cutler said that the Department moved "as expeditiously as possible" and that the prison had fast-tracked a process that often takes place over several months. HIV/AIDS activists had also expressed concern that Mr. Plunkett had difficulty receiving HIV medications. According to Mr. Cutler's statement, the Department of Corrections was "not aware of any problems with his accessing HIV meds."
Catherine Hanssens, Executive Director of the Center for HIV AIDS Law and Policy, said that lack of awareness was disconcerting, in that both Plunkett and his attorney confirmed that in fact he has had multiple interruptions in his HIV medication access, including a stretch of several days just last week.
AIDS United continues to work with the Positive Justice Project and many others to end the criminalization of HIV/AIDS throughout the United States.

This article was provided by
AIDS United
. It is a part of the publication
AIDS United Policy Update
. Visit
AIDS United's website
to find out more about their activities and publications.
(Please note: Your name and comment will be public, and may even show up in
Internet search results. Be careful when providing personal information! Before
adding your comment, please
read TheBody.com's Comment Policy
.)