AIDS 2012 Update: President Obama's Absence Is Not a Cause for Outrage
July 20, 2012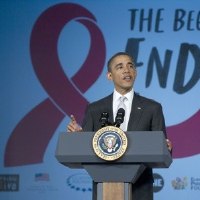 President Obama won't be there. But his work will.
The White House announced that President Obama will not be in attendance at the International AIDS Conference next week. Instead he will send a video message. Some critics say that this is a bad move on his part. The chance to meet and greet hundreds of foreign dignitaries and leading researchers at a conference about a disease that is affecting millions around the world is a prime opportunity. This kind of move can be viewed as bad politics. However, this Examiner would like to point out a few important details that show that President Obama is not exactly ignoring AIDS like one would assume because of this absence.
In 2009, Congress passed the Ryan White HIV/AIDS Treatment Extension Act, which was signed by President Obama on October 30, 2009. This bill extends the Ryan White Care Act for an additional four years but, unlike previous bills, contains no "sunset clause" which means it will continue in effect even if Congress fails to act. This fact and significant improvements to the Ryan White programs are a direct result of work by the Obama Administration and its Congressional allies.
In 2009, President Obama lifted the travel ban on persons with HIV/AIDS coming into this country. Thanks to this action, the International AIDS Conference can actually be held here in the U.S.
In 2010, his administration released the first National HIV/AIDS Strategy. No other president has used his time and resources while in office to produce such a plan. Is it perfect? No. But it's a foundation for forward thinking groups to build on.
He has withstood a whole boatload of criticism and fervor to pass the Affordable Care Act, which provides insurance coverage to people with HIV who were previously denied coverage. The ACA also expands Medicaid coverage to large numbers of people thereby increasing participation by people living with HIV/AIDS who previously relied on Ryan White funds only. It also alleviates some of the cost of lifesaving drugs to people who are unable to afford them.
Speaking of life-saving drugs, the Obama administration just announced yesterday that it is awarding $80 million in grants to increase access to care for people with HIV/AIDS. If I'm not mistaken, that's $30 million more than what he pledged to do on World AIDS Day. This could be a political strategy to win some nods but it will also relieve many of the 2,030 people from the AIDS Drug Assistance Program (ADAP) waiting list.
The points in this list are significant and should not be ignored. One could conceive this truancy of sorts as a slap in the face. There have been legitimate questions asked about his track record with HIV/AIDS. But I simply cannot ignore these points and other efforts to fight HIV that have not been spotlighted by the media. It's going to take more than a missed opportunity at the IAC for this Examiner to lose faith in him when it comes to fighting AIDS. President Obama may be absent for the conference but his presence will definitely be felt based on his video appearance and his record of accomplishments.
Just my two cents.
---

This article was provided by TheBody.
---
| | |
| --- | --- |
| No comments have been made. | |
Add Your Comment:
(Please note: Your name and comment will be public, and may even show up in
Internet search results. Be careful when providing personal information! Before
adding your comment, please
read TheBody.com's Comment Policy
.)
Please note: Knowledge about HIV changes rapidly. Note the date of this summary's publication, and before treating patients or employing any therapies described in these materials, verify all information independently. If you are a patient, please consult a doctor or other medical professional before acting on any of the information presented in this summary. For a complete listing of our most recent conference coverage, click here.