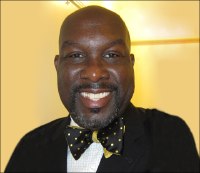 Ennis Jackson
Until AIDS 2012 I have not been able to afford to go to the International AIDS Conference. I am so excited to see what is going on internationally in the AIDS world. I am looking forward to the whole experience and appreciate the Black AIDS Institute for making it possible for me to attend. I hope it is the first of many AIDS Conferences.
I am passionate about helping inform and educate people about HIV and AIDS. From what I have been told, there is going to be a lot of information given at the conference that I can share with my community to equip and empower them. Knowledge is power. The more knowledge we get in the Black community, the more power we'll have to fight the spread and transmission of HIV and AIDS.
I hope to walk away better equipped to serve and inform my community and the people I come in contact with. I also hope to establish new friendships and resources.
I hope that I will be more confident in understanding HIV/AIDS and able to articulate more clearly. I hope to be inspired and empowered to see where and how I can better mobilize in my community. I hope to be a better man.
Ennis Jackson is the outreach associate for the Allen Temple Baptist Church AIDS ministry in Oakland.
(Please note: Your name and comment will be public, and may even show up in
Internet search results. Be careful when providing personal information! Before
adding your comment, please
read TheBody.com's Comment Policy
.)