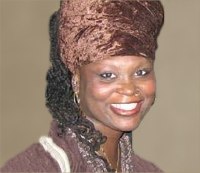 Yaa Simpson
The International AIDS Conference offers an opportunity to participate in a dynamic forum that hasn't taken place in the U.S. for the past 20-plus years.
Blacks must have our voices and concerns heard and acknowledged by the world. Although people of African descent have issues that transcend boundaries, African descendants living in the U.S. must address the challenges and barriers here as well as abroad.
Blacks in the U.S. are greatly impacted by HIV and other co-morbidities. We require a plethora of approaches to address prevention, intervention and treatment needs.
I intend to seek best practices for how to conduct, implement and measure the effectiveness of community-based participatory research. I hope to not just get something out of the conference but to give back information, plans and strategies to the people who could not attend. I hope to share my experience to help build more collaborations and enact change.
When I leave I don't intend to be different, but I do intend to be more energized to conduct research that embodies structural, environmental and community-level change. I want to measure and evaluate prevention as a cost-benefit sustainable approach for both people who are not infected as well as for positives. I want to increase the number of Blacks who have participated in a community-level intervention (either home-grown or adapted DEBIs), so it will become the norm for Black people to create and practice their own prevention plans. This will help decrease the number of new cases and increase the number of people linked to care.
And yes, I am ambitious enough to think we Black AIDS Institute delegates should publish our experience in a peer-reviewed journal.
Yaa Simpson is an epidemiologist with the Chicago Department of Public Health.
(Please note: Your name and comment will be public, and may even show up in
Internet search results. Be careful when providing personal information! Before
adding your comment, please
read TheBody.com's Comment Policy
.)