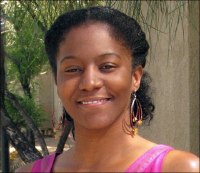 Shenell Evans
I'm fighting to attend this historic event -- I cannot let it pass me by. AIDS 2012 will help me as an advocate, clinician and researcher obtain a more thorough understanding of what's happening in Black America and populations across the world. I'm hungry, thirsty and fighting to be fed!
This August I begin a three-year intensive, mentored research-training program with the HIV Center for Clinical and Behavioral Studies at Columbia University and the New York State Psychiatric Institute. In this position I will build upon my previous work examining psychological distress, substance abuse and trauma, as well as barriers to and facilitators of HIV-treatment adherence among PLWHA. AIDS 2012 will also help me develop my training goals and create a postdoctoral research program synchronized with the needs of our national and global HIV/AIDS community.
I will leave with more knowledge, understanding and support to continue fighting on behalf of Blacks living with and affected by HIV/AIDS. I remember one fighter whose work significantly impacted my training: Dr. Mark Colomb, now deceased. Our communities need individuals like him, who are willing to give of themselves to fight for the greater good. I'm willing to share my talents, skills, virtue and energy to educate Blacks about risk and protective factors and basic HIV science and treatment, and I will use innovative methods such as social media to do so.
I count it a privilege to carry on the fight on behalf of Dr. Colomb and alongside Phill Wilson, as well as so many other men and women who love others as they love themselves.
Shenell Evans is from Jackson, Miss., but will be organizing in New York City, where she is a postdoctoral research fellow at the HIV Center for Clinical and Behavioral Studies.
(Please note: Your name and comment will be public, and may even show up in
Internet search results. Be careful when providing personal information! Before
adding your comment, please
read TheBody.com's Comment Policy
.)