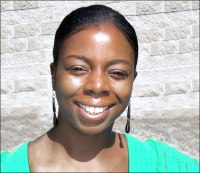 Kieta D. Mutepfa
I think that AIDS 2012 will create a significant shift in how Americans think, view and perceive HIV/AIDS. For more than two decades, Americans have willingly offered financial, institutional and technical assistance and support for addressing the epidemic outside U.S. borders. AIDS 2012 signifies a willing and bold stance to say that Americans are not exempt, we do not have all the answers, and we are equal partners in addressing and ending HIV throughout the world and within our own borders.
The conference is important for Black folks in general because it will shine a global spotlight on the epidemic's impact in our communities. Hopefully it will demonstrate that we have the ability to control and master the rate at which we are becoming infected. It will force folks here in Los Angeles to step out of the bubble that has us believing that we are the epidemic. And it will challenge us to become more proactive, assertive and even aggressive in how we plan, design, implement, evaluate and contribute to ending HIV in the Black community.
I hope that I will gain a more in-depth global perspective on the advances in treatment for people throughout the world. I am equally interested in sharing the local efforts of Los Angeles with the global community who will gather in D.C.
Although I am not 100 percent certain of how I will be different upon returning from the conference, I want to renew my commitment to eradicating HIV within my Los Angeles community, social networks, family and friends. I desire to bring back to Los Angeles what I learn so that I can help those who were unable to attend; deepen and widen my appreciation of HIV advocacy; and improve my personal and professional approach to ending the epidemic.
Kieta D. Mutepfa is senior community health-program representative for the UCLA CARE Center.
(Please note: Your name and comment will be public, and may even show up in
Internet search results. Be careful when providing personal information! Before
adding your comment, please
read TheBody.com's Comment Policy
.)