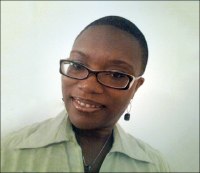 Precious Jackson
It feels phenomenal to be able to attend a premiere HIV conference in Washington, D.C., among 20,000 delegates from around the world. I will interact with my peers and colleagues, engage in conversations about how we as leaders, scientists and policy makers can educate and create collaborative partnerships in communities highly impacted by this horrific disease so we can eradicate HIV altogether.
I'm eager to learn how people in different countries are developing and implementing programs to decrease contributing co-factors, such as stigma, incarceration and socioeconomic class, particularly in communities of Latin and African descent.
We are 30-plus years into the AIDS epidemic, rapid HIV testing reveals results in as little as 60 seconds and new biomedical tools exist that can end the HIV pandemic. Still, Black Americans and Africans carry the burden of HIV. We must move beyond the level of wearing a condom, negotiating safe sex and having access to clean needles and begin to understand how complex factors increase one's risk for acquiring and/or transmitting HIV -- factors such as social networks; judicial policies like mass incarceration; access to housing and affordable and quality health care; social and family support. We also need to understand the roles that resource-driven survival behaviors, intimate-partner violence and individual-accountability factors such as financial security, health status and self-esteem play in perpetuating the epidemic.
I hope to gain more information and ideas that will help me develop culturally and linguistically competent programs and increase my constituents' knowledge of basic, clinical and prevention science and epidemiology.
Upon my return I will feel purpose driven to develop programs that address the social determinants of HIV and that will help decrease community viral load by encouraging treatment as prevention. As a woman who co-exists with HIV, already having this knowledge helps me understand how important it is to adhere to my treatment regimen -- both to help keep my viral load undetectable and decrease my chances of transmitting HIV to my partner. The additional information that I gain at AIDS 2012 will also help qualify me as a trusted source from which people can obtain culturally competent health information.
Precious Jackson is women's program coordinator at the Center for Health Justice in Los Angeles.