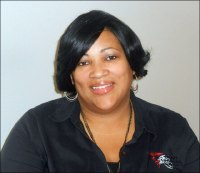 Karen Bennett
I'm delighted to be selected to attend the International AIDS Conference and to have the opportunity to meet many people who work in HIV/AIDS and PLWHA from around the world. Collaborating with people outside of Louisiana will arm me both with more knowledge and information about interventions being carried out in other states.
It's important for African Americans to learn more about HIV, which is a growing epidemic in Louisiana and disproportionately affects African Americans. There are many challenges that Black Americans face every day -- high rates of STDs, lack of HIV knowledge, late diagnoses and the use of drugs and alcohol, for example, which are major issues.
I would like to participate in the professional development aspect of the conference so that I can learn to assist my clients in a wider array of ways. I also want to enhance my abilities to network with a variety of professionals -- from scientists to policy makers and health educators -- from around the world. When I return home I will apply and share the skills and information I learn with my colleagues in the field, which will help my peers and me to develop a more advanced understanding of HIV/AIDS.
Karen Bennett is a client specialist at Priority Health Care, Inc. in Marrero, Louisiana, near New Orleans.
(Please note: Your name and comment will be public, and may even show up in
Internet search results. Be careful when providing personal information! Before
adding your comment, please
read TheBody.com's Comment Policy
.)