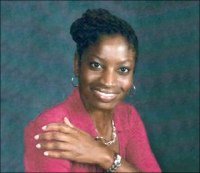 Zupenda Davis
As an HIV-prevention and consumer advocate and HIV-prevention researcher, I understand that the most effective prevention, care and treatment strategies require insight from and collaboration and dialogue among multiple stakeholders: policymakers, PLWHA, HIV-prevention specialists, care workers and others. AIDS 2012 provides the opportunity for us to converge from around the world.
Overall, I hope to gain scientific knowledge, network with researchers and other delegates and engage in impactful dialogue with HIV leaders from various countries. I hope to share my knowledge and expertise with other conference participants and learn better strategies to combat HIV/AIDS in Philadelphia.
The Philadelphia health department reports that Blacks represent roughly two-thirds of both cumulative HIV/AIDS cases and new diagnoses. The HIV/AIDS prevalence rate is about 2,610 and 1,867 per 100,000 for Black men and women respectively, compared with about 1,049 and 168 per 100,000 for White men and women respectively. In Philadelphia, people engaged in high-risk heterosexual contact (43 percent) and men who have sex with men (42 percent) are at the greatest risk of new infection.
AIDS 2012 will play a part in helping to address and eliminate these types of racial disparities. When I leave, I will be able to take a more active role in advocating for those infected and affected by HIV/AIDS in Philadelphia. I intend to translate international responses into prevention, care and treatment strategies that can be used in Black America and Philadelphia by applying and disseminating what I've learned to local clinical, social service and community settings.
Zupenda Davis is a training specialist at the Health Federation of Philadelphia.
(Please note: Your name and comment will be public, and may even show up in
Internet search results. Be careful when providing personal information! Before
adding your comment, please
read TheBody.com's Comment Policy
.)