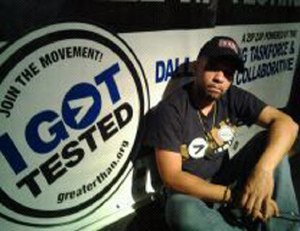 Photo courtesy of J. Raheem Harris.
J. Raheem Harris, 38, tells Housing Works why he is making the 22-hour trek on a bus from Dallas, Texas to D.C. for the We Can End AIDS march on July 24th.
Why is it important to you to travel to D.C. for the We Can End AIDS march?
I would walk from Dallas to D.C. if I had to. I need to have my voice heard and my body counted and tell America to wake up. To look at what works and what does not work. I am a Muslim and I neither drink nor do drugs because my faith does not allow it, but I do know needle exchanges reduce the number of people with HIV. And I know the state of Texas hands out educational brochures that do not tell young people what they need to know about safe sex and condoms, but we know they are having sex. We need sound policies that reflect what is actually happening in society.
How would these sound policies affect your life?
I was diagnosed with HIV in 2007 and am on disability. We have a HOPWA (Housing Opportunities for Persons With AIDS) wait list here in Dallas, and I've been on it for more than a year. I'm Co-Chair of C2EA Southwest and founded the Dallas Awareness Action Group, but those are both volunteer positions. I get $878 in disability a month and $16 in food stamps and I have to spend half of it on rent. I eat just one meal a day and get a lot of food from local charities, but if there was a funding change, I could eat more healthily. Also, people don't have much concern for going to their doctor or worrying about medication if they don't have a roof over their head, and they may have sex with individuals or stay in unhealthy relationships to get housing. Ryan White needs more funding too. For instance, there are only two places in Dallas where people on Ryan White can have their teeth checked. I had to wait six months to get an appointment to have a bad tooth taken care of and then I had to sit in the waiting room for two days.
Advertisement
How did you get involved in AIDS advocacy work?
In 2007, my partner got a call from the health department telling him that someone he had been with had tested positive for HIV, but wanted to remain anonymous. I got tested immediately and got my positive result. My partner waited a year to get tested because of the stigma. After he did, he was convinced that people could look at him and tell he had HIV and everyday he thought he was going to die. He became a different, violent person, and I saw the stigma tear him and our relationship apart. I started downloading facts about HIV from the CDC and putting the flyers in our neighbor's doors. I remember back in the day you couldn't turn on the TV without hearing about AIDS, but that went away. After seeing what he faced, I wanted to go educate people about the facts.
What are the biggest issues people with HIV face in your area?
We recently held a C2EA summit in Arkansas and adopted the state into the Southwest region because they don't have a lot of HIV leadership. They have an extremely long HOPWA wait list and people aren't seeking treatment because of the stigma and are afraid to tell their family, meaning they're dealing with the disease alone. People don't know the facts. Everyone needs to know the statistics and that HIV impacts their area and they need to know that people are still dying. There are 2,000 people on the ADAP wait list. If I was on that list and I knew just up the street there was a Walgreen's with a medication that could save my life, but I couldn't get it, I might do something radical. I have to be in D.C.
The march's five branches, of thousands each, will disembark from separate points across Capital Hill at noon on July 24th, flooding downtown Washington with shouts of "end AIDS now" as policy makers sit in their offices looking on, before all five converge at the gates of the White House in what could be one of the largest political actions of the decade. Sign up today at Wecanendaids.org.