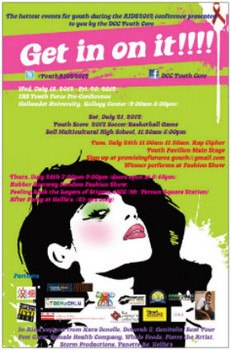 It's easy for youth to "Get In On It" at the IAC.
This is the second part of a week-long series about the highly anticipated International AIDS Conference coming to the Walter Washington Convention Center July 23rd-27th.
The International AIDS Conference for 2012 will not just be an adult-only affair. Youth are not only invited to come, they are encouraged to participate. The D.C. Community Youth Core for AIDS 2012 has an extensive list of ways for youth to get involved. Check it out. Send it to friends. But most of all, support these programs.
Saturday, July 21
"YOUTH SCORES" AIDS 2012 Promo Soccer/Basketball Game
Bell Multicultural High School, 11:30 a.m. - 5:00 p.m.
D.C. Youth Core will be partnering with UNAIDS, Grassroots, Advocates for Youth and Metro TeenAIDS for a co-sponsored event. All of the YOUTH CORE member agencies are invited to engage in athletic games in Columbia Heights. During half-time, the YOUTH CORE will perform a flash-mob dance.
Monday, July 23
Paper Doll Female Condom Demonstrations/Education Main Hall/Global Village (8:30 a.m. - 8:00 p.m.). YOUTH CORE members were trained in all three female condom types and will encourage conference attendees to complete paper dolls and perform female condom demonstrations.
Pulled Apart Theatrical Ensemble Youth Pavilion (5:00-5:30 p.m.). YOUTH CORE member agency -- Metro TeenAIDS -- will provide an encore presentation of its play premiered recently at the Arena Stage as part of VOICES D.C. to share stories on HIV through monologue, dialogue, poetry, movement and music.
Paper Doll Fashion Show
Global Village Main Stage (6:30-7:30 p.m.). YOUTH CORE member agency -- Ophelia Egypt of PPMW -- will simulate a condom dance performance while member agency -- The Womens Collective -- will model a sneak peek of several female condom outfits from the couture collection being featured during Thursday's Rubber Runway Condom Fashion Show.
Tuesday, July 24
Mic Check -- 1, 2, 1, 2: A Rap Cipher Youth Pavilion (11:00-11:30 a.m.). YOUTH CORE members will solicit youth artists, rappers and poets to enter a freestyle battle rap contest to explore the advocacy messages related to anti-homophobia, condom use, stigma and poverty.
We Can End AIDS March Lafayette Park (12 p.m.). YOUTH CORE members will join the movement to ensure youth priorities are adequately addressed.
Screening of The Other City and panel of youth and HIV Carnegie Library Theatre (5:30-8:00 p.m.). YOUTH CORE member, Jose Ramirez, stars in this film and will accompany Maranda Ward (Youth Core Chair) and Tyler Spencer (CEO, Grassroots) on the panel.
A Return to Lisner -- A Forum on the Current State of HIV/AIDS
GWU Lisner Auditorium (6:00-8:00 p.m.). Several YOUTH CORE member agencies will be on deck for this major community forum.
Wednesday, July 25
Metro TeenAIDS Presents YOUTH DAY AT AIDS 2012, Global Village/Youth Pavilion (9:00 a.m. - 6:00 p.m.). Live Plenary Broadcast -- Turning the Tide on Transmission for Children & Youth, Making Women Count, Turning the Tide for Women and Girls. Workshop -- Making Government Hear Our Voices: Using a New United Nations Human Rights Mechanism -- the Universal Periodic Review -- to Bring State Accountability for the Health, Specifically HIV and Rights of Sex Workers LGBTI Communities
"Pow Watch Us Now!": YOUTH CORE Flash Mob Dance Performance
Global Village Main Stage (3:15 p.m.)
Panel: Young People Leading the Fight Against HIV: U.S. and Global Perspectives on How to Make a Difference
Note: Contact Geetha Ananthakrishnan at geetha@metroteenaids.org to have your youth group join in on this day of advocacy training.
Advertisement
Thursday, July 26
National Council of Negro Women (NCNW) NGO Booth Global Village (10 a.m. - 8 p.m.). YOUTH CORE agency -- Promising Futures -- will volunteer at this NGO booth to highlight the youth HIV prevention programs offered to D.C. area youth and beyond. They will also feature a program partner -- Good Ground Good Life -- and focus on healthy lifestyles via hands-on 20 minute pilates instruction all day.
Women's Networking Zone (WNZ) Workshop Global Village (10:30-11:30 a.m.). YOUTH CORE member agencies -- Promising Futures and The Women's Collective -- will lead a workshop entitled "Please Don't Change the Station: How Provocative Visual Public Service Announcements Can Raise Awareness and Change Attitudes in the Global Youth Community." You won't want to miss it.
Community Involvement Workshop Global Village (11:45 a.m. - 12:45 p.m.)
Maranda Ward, Youth Core Chair, will be one of several youth advocates on a panel to discuss best practices for how to engage youth in female condom campaigns. The work of the DCC Youth Core in promoting the paper doll campaign in D.C. will be featured.
Peeling Back the Layers of Stigma -- Rubber Runway Condom Fashion Show
(Metropolitan Community Church, 7:00-9:00 p.m.). YOUTH CORE members have designed condom inspired clothing, accessories, body art and hair styles to reduce stigma of consistent condom use. Several dance and musical performances will take place. The youth co-MCs include the Rubber Runway founder (Januari McKay) and the Adam Middleton (who occupies the youth seat on the Mayors Commission on AIDS). Nellie's is hosting a post-show party for attendees 21+.
Friday, July 27
"Pow, Watch Us Now!": YOUTH CORE Flash Mob Dance Performance, Global Village Main Stage (11:45 a.m.).
Ongoing
YOUTH CORE members will host a paper doll video exhibit in Hall C near the Youth Pavilion. Visit booth #801 (D.C. Connect) for resources on each YOUTH CORE agency.
Click here to read part one of the series.
Next update: One City -- Two AIDS Marches