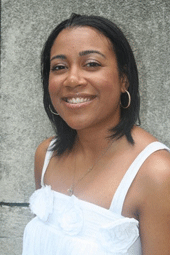 Kellee Terrell, News Editor for TheBody.com
Over the past week, plenty of African-American celebrities such as Beyonce, Nicki Minaj and Russell Simmons came out in full support for Frank Ocean, an up-and-coming indie hip-hop and R&B artist who on July 4 admitted on his Tumblr blog that he had fallen in love with another man when he was 19.
This past Saturday, Atlanta-based rapper and reality star Lil' Scrappy also showed his support. He told TMZ Live, "I feel like to each his own ... There's a whole gay community and you can't pretend like it's not there. To me [Frank Ocean]'s cool. The music is what really matters."
But in true giveth-and-taketh-away fashion, Scrappy's next series of comments offended just about everyone: the LGBT community, those who do research around HIV transmission and everyone with common sense. He stated that more gay men should come out of the closet to help lower HIV infections among women.
"I'm glad that he came out ... so all the real women that love to mess with real men, straight men, we can keep the AIDS situation down, you feel me?" he said.

Pressed by TMZ's Harvey Levin as to whether he was implying that all gay men have AIDS, Scrappy backpedaled.

"No, no ... but it's a doorway. Scientifically. Not from my mouth, this is scientifically," he said.

Scrappy went on to say that the hip hop community would be more tolerant of gay people if more artists within it came out about their sexuality. Rappers who are in the closet should have the courage to identify themselves as gay, he said.

"You a coward if you don't stand up and say that, at the end of the day," Scrappy argued.
Really?
First, gay and bisexual men ARE REAL MEN. Not 3/5, not half or a quarter, but 100 percent real men. I am extremely tired of masculinity in our community being tied to sleeping with and conquering women. It's demeaning, homophobic and quite sexist. And his argument that LGBT folks who remain in the closet are cowards is extremely simple-minded and completely ignores the staunch homophobia that serves as a barrier for people, especially LGBT folks of color, to come out in the first place.
While current HIV rates do show that African-American gay and bisexual men are bearing the brunt of this epidemic, Scrappy is insinuating something else. He is saying that the down low is fueling HIV rates among black women and that if gay and bi men just sleep with their own kind, heterosexual women wouldn't be at risk anymore. But we know that just isn't true -- heterosexual men have HIV too.
And speaking of the science, there are NO studies that back up his jaded and misinformed claims when it comes to HIV in the African-American community. While we do need to focus on personal responsibility (i.e., using condoms), that alone doesn't explain why our rates are so damn high in comparison to that of other races and ethnicities. We have to look to something larger such as poverty, oppression, lack of quality health care, homophobia and institutionalized racism to name a few.
But I digress.
Thankfully, others took him to task, especially on Twitter, which resulted in Scrappy claiming that TMZ took his comments out of context. The Examiner reported that Scrappy tried to clear his name on Twitter:
"I don't have a problem wit gays I just don't do it an I also said scientifically because its proven, we was talkin bout 1 thing not other gates," Lil Scrappy said following backlash from fans and others who read his TMZ story with the headline "closeted gays spread AIDS."

According to Lil Scrappy, people took what he said wrong.

"Ok y'all just took the tmz sh*t wrong cus I was def not sayin that's the only way u can get hiv I mean come on yall just wanna find a reason," Lil Scrappy said via Twitter. "And I respect all y'all comments good or bad that's just ur opinion, thanks for even giving a f**k. Ya feel me."
Sigh.
Dear Scrappy,
Actually, I don't feel you. Regardless of your last-minute acknowledgement that there are other modes of transmission or "gateways," the real issue is that you are running your mouth about a topic that you know very little about, perpetuating myths and exacerbating stigma. Even worse, your inability to recognize that you are wrong and acknowledge that your misinformed views can influence others makes my blood boil.
Educate yourself about HIV before you speak next time. Better yet, don't EVER talk about HIV again. Leave that to the experts and the people living with the disease.
Thanks in advance,
KT
Kellee Terrell is the former news editor for TheBody.com and TheBodyPRO.com.
Follow Kellee on Twitter: @kelleent.
Copyright © 2012 Remedy Health Media, LLC. All rights reserved.