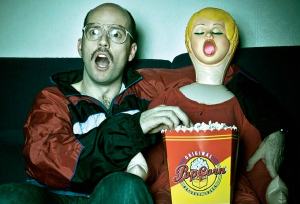 Photo: Ferran Traite Soler.
While HIV prevention in the U.S. focuses on men who have sex with men (MSM), it's clear that anyone can pick up HIV. Hence, precautions are taken in certain communities that revolve around sexual activity.
Adult Films
On January 17, 2012, Los Angeles Mayor Antonio Villaraigosa signed an ordinance stating that adult film actors working within Los Angeles must wear condoms. California's occupational safety and health agency already has rules stating that porn performers must wear condoms during filming.
"Since 2004, nobody has contracted HIV on set," says Diane Duke, executive director of the Free Speech Coalition (FSC), located in southern California. FSC oversees health and safety services for the adult film industry. Duke said there are approximately 1,000 performers filming each year and the fact is, condom-free porn sells best.
"We've developed a bloodwork pathogen plan that we believe is very effective in protecting the health of the performers," she said, "and they support it."
Before filming begins, performers must have a certificate of results from a recent (that week) PCR RNA (HIV viral load) test, which can find actual HIV in the blood within 9 to 11 days after exposure. They must also test monthly for gonorrhea and chlamydia, and yearly for syphilis.
The Los Angeles County Department of Public Health reported in 2010 that four cases of HIV have occurred since 2004 in the porn industry during production. Duke points to a recent Los Angeles County report looking at HIV risk factors and how to manage them. Not once in the 162-page report does it refer to the industry.
Advertisement
Leather
The leather community, which focuses on S/M sexuality, does not necessarily revolve around sexual intercourse.
Gregory Bear Abbott, a gay leatherman for more than 20 years, says, "We play. That doesn't mean somebody gets penetrated. It usually means somebody gets marked up [whipped, flogged, etc.]."
He said he was "very impressed" with the evidence of safer sex he saw in May at the Cleveland Leather Awareness Weekend (CLAW). On the other hand, he's heard the phrase "if you're undetectable, you're uncatchable."
"I'm sorry, but undetectable means 50 copies [of HIV per mL of blood]. That could mean there were still 49. You're still at risk," he said. He points to other infections, like gonorrhea and syphilis, that can be acquired when not using a condom and are rampant in the gay male community.
He said there's also some knowledge of Truvada PrEP, but misinformation around it, too. He overheard one young man at CLAW say he had just gone through all of his condoms, "but I've got Truvada upstairs, so I'm okay."
"I said no, no, no," said Sir Bear. "I gave him more condoms and he kissed me on the cheek and said, 'Thank you for taking care of me.'"
Kink
Like leather groups, communities formed around sexual kinks do not necessarily involve sexual intercourse.
Bruce, president of Leather SINS in the Chicago area, says, "The sexual act is only about 25% of what we do. Sex is rarely a part of fantasy and fetish."
In terms of safety, Bruce says, "Since we deal in risk all the time and since safety is such an important part of what we do, with all the physiological stuff that can happen, STIs [sexually transmitted infections] are, for some people, just another of the many risks."
Perhaps the greatest promotion of safer sex and play comes through what is explicitly discussed during a "negotiation" before engaging in activity.
"Part of it focuses on physical health -- any physical condition or injury that could be exacerbated. So discussion of blood-borne pathogens comes easily to us," said Bruce.
Sir Bear said that in two years of free HIV testing at Kinky Kollege, run by Leather SINS, nearly every person at the event was tested.
Not one was HIV-positive.