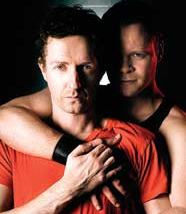 Ryan Kelly (left) and Dale Miller star in Living With Henry.
Living With Henry is the title of a new Canadian musical that explores present day issues of living with HIV such as stigma, disclosure, and interpersonal relationships. The musical will be premiering in New York City this summer from July 23-29 as part of the New York Musical Theatre Festival.
"It has become apparent that there are few, if any, theatrical productions that discuss HIV in the 'now' context," says writer and director Christopher Wilson, who is himself HIV-positive. "Living With Henry is a contemporary theatrical view of HIV/AIDS, framing it as a chronic illness rather than a death sentence."
For more information go to www.LivingWithHenry.com; Living With Henry tickets are $25 and can be purchased online at www.nymf.org or by calling (212) 352-3101.

This article was provided by
Positively Aware
. It is a part of the publication
Positively Aware
. Visit
Positively Aware's website
to find out more about the publication.
(Please note: Your name and comment will be public, and may even show up in
Internet search results. Be careful when providing personal information! Before
adding your comment, please
read TheBody.com's Comment Policy
.)