I've Got Life!

I've Got Life! How About You?!
By Rev. Andrena Ingram

July 6, 2012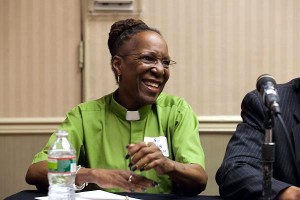 A light moment during discussion.
It's been awhile since I have sat down to write a new blog post; this sista's been dealing with life on life's terms. So, that being said, let me also give a hearty welcome and thanks to all who journey through my space in the Web. I am able to see where you all come from, and am grateful for you taking the time to peek in, even if you don't make your presence known ... you are reading, you are seeing life through my eyes and my life experience, through MY context. I should also add that this blog is not entirely for the Christian community, but for those who are seeking information about HIV/AIDS. I may post sermons or God stuff up in here every once in awhile, but HIV/AIDS reaches a larger audience. I will not force theology and religion down people's throats, who are living with this disease and have been hurt by the church, judged by the church, and condemned by the church.
So, what's been going on with me? On the health tip, I just had my doctor visit -- and am doing very well. My numbers remain stable, am still undetectable, but there is a matter of an abnormal pap smear. Sometimes when this happens, it can just be a matter of some strange cells on the cervix, which sometimes resolves itself (which it has in the past). Sometimes it doesn't. This happened to me about 7 years ago, and I had it taken care of by having a biopsy and then burning the affected cells away. This is why it is SO important, ladies, to get a yearly PAP smear. If it is not detected and you don't get treated, you may develop cancer of the cervix. So ladies, get that pap smear done! On another note, I gained 7 pounds in a month. In April I weighed in at 121 and last week 128. I know it doesn't sound like a lot, but I can feel it, and need to get rid of about 3 pounds ... or maybe, Andrena, some exercise is in order! Duh! My blood sugars are being controlled and high blood pressure is holding steady, and my cholesterol levels are excellent!
I am currently on the Board of Directors at Philadelphia Fight, and am pumped about that! I get to see what goes on behind the scenes of a fantastic organization and at the same time have a voice as one who is infected.
June was AIDS Education Month and many events were hosted all over the city through Philadelphia Fight. I was blessed to be able to sit on a panel to discuss "How to Set Up An HIV Ministry." It was very enlightening, and I was privileged to be a part of it.
What else is going on? I have also been gearing up for an awesome speaking engagement next month at the 2012 ELCA National Youth Gathering, which will be held in New Orleans. I don't know the total number of senior high youth, but it is well over 30,000. I will be sharing the story of my life, bad situations, bad choices, the consequences of bad decisions, and more importantly, the love and care of God, who walked with me though it all and saved me from myself.
So, my dear ones, it has been an interesting few months. Some ups and some downs. But I am still walking along the Way; stumbling and yet standing tall, weak and yet strong ... poor and yet rich ... once dead, but now still alive, in Christ -- and thankful for God's amazing grace poured out in my life.
As my girl Nina Simone belts out: "Ain't Got No ... I've Got Life"!
Get email notifications every time this blog is updated.
---
| | |
| --- | --- |
| No comments have been made. | |
Add Your Comment:
(Please note: Your name and comment will be public, and may even show up in
Internet search results. Be careful when providing personal information! Before
adding your comment, please
read TheBody.com's Comment Policy
.)