The first on the scene was also the least practical place to be at if I wanted to be the first to hear the Supreme Court's decision on the Patient Protection and Affordable Care Act (ACA). Yet there I was standing outside of the Supreme Court on an oppressively hot Thursday June 28th morning with a yellow notepad and pen eagerly awaiting the ruling. Accompanying me is a political circus, and its diverse band of performers -- the supporters and protestors of President's Obama health care legislation, pro-life and pro-choice advocates, tea party and occupy movement activists, church-goers, doctors in white coats, single-payer belly dancers, numerous news media (i.e. journalists, news anchors, cameramen, photographers, bloggers), hundreds of signs plastered with clever sayings (like "Keep Your Ovaries Off My Rosaries"), and even one Obama Chia Pet -- all showed up hear the Supreme Court ruling.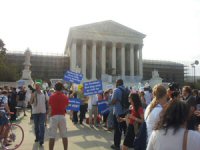 Despite the diverse, often heated opinions regarding the ACA, at this moment we could all agree on one thing -- that everyone, absolutely every single American citizen, has a stake in this decision. The United States does not have universal healthcare, but health itself is universal. Whether a person gets sick, requires vaccination, is involved in an accident, or is born with a pre-existing condition, every U.S. citizen has his or her own health to protect and nurture, and at some point he or she has used the nation's health care system. Health is personal.
Take me, for example. I am a 24 year old young adult and graduate student. I grew up with a single mother and younger brother in Pittsburgh, Pennsylvania. After high school, my brother joined the U.S. Marine Corps, and has health insurance coverage through the military. When I turned 19, I was not eligible for the Pennsylvania Children's Health Insurance Program or CHIP (which covers all uninsured children and teens in the state) any longer. As a result, my mother (a naturally anxious person who refuses to let me go without health insurance) paid out-of-pocket for "bargain basement" health insurance -- that is "low-cost" monthly premium, high deductible, high co-pays, and minimum coverage of benefits. I hardly used the health plan because I did not want to pay towards the high deductible for simple preventative health services that would require ten minutes of a physician's attention. In my opinion, the health plan does not do much to promote better health practices. Since the passage of the ACA in 2010, parents are able to enroll their children under the age of 26 onto their health plan. I enrolled right away on my mother's health plan, saving my family $100 a month!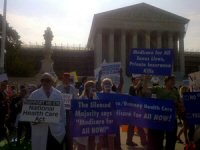 The ACA does not only provide peace of mind for my family, but also for millions of families. For example under the ACA, no one will be denied health coverage or charged a discriminatory premium due to a pre-existing condition (resources to additional benefits listed below). Almost every Western country believes that its government has a responsibility to protect its people. Both provisions in the World Health Organization Constitution and United Nations Universal Declaration of Human Rights (1948) believe that access to quality health services is a fundamental right of every human and nations should protect this right. Shouldn't the United States, one of the richest and most powerful countries in the world, believe in protecting its people too?
Advertisement
As the 10 a.m. designated time of announcement approached, the intensity of emotions on the steps of the Supreme Court was noticeably heightened withnervousness, excitement, fear, amusement, hope, anger, and desperation. Ten minutes until 10 a.m., groups were still marching; several people were on microphones at the same time; the church-goers are singing "Amazing Grace," and finally at 10:08 a.m., we hear a burst of cheering from one side. Which group is cheering? Which group is crying? The liberals? The conservatives? The belly dancers? Around me I hear, "My heart is beating so fast right now," "I'm so nervous," and "I couldn't sleep last night." What I cannot hear was the ruling itself. In fact, most people can't hear! Almost everyone buried their heads into smart phones attempting to look up the results, but the internet connection was too sluggish. We were receiving conflicting rulings, mostly due to a misreporting of a certain news source. After even more minutes (that felt like hours), I felt that I was the last person to hear that the Supreme Court ruled 5-4 to uphold the Affordable Care Act. But the wait was worth it.
With a huge smile plastered on my face, I realized that I was on the scene of a historic health care victory. As I walked away, I decided to take a piece of history with me by picking up a marching sign left on the ground of the Supreme Court.
Tran Doan is a Pedro Zamora Fellow at AIDS United and graduate student at the University of Pittsburgh Graduate of Public Health.
ACA Benefits impacting families are outlined in a statement from Families USA, a non-partisan nonprofit organization dedicated to the achievement of high-quality, affordable health care for all.
ACA Benefits impacting people living with HIV/AIDS are outlined in the AIDS United Statement on the Supreme Court decision.
Tran Doan is a Pedro Zamora Fellow.