Activist Reacts to HAHSTA's 2011 D.C. Epidemiology Report
By Candace Y.A. Montague

June 26, 2012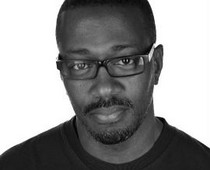 Larry Bryant says the results show the work is not over yet. Photo credit: Larry Bryant.
Last week Mayor Vincent C. Gray and officials from the D.C. Department of Health (DOH) released the 2011 District of Columbia HIV/AIDS, Hepatitis, STD and TB Epidemiology Annual Report. This report is basically a scorecard of how we're doing in terms of fighting the epidemic. Some numbers were positive. Other numbers highlight that certain groups are still not making progress. In short, this is still a major epidemic in our city.
Larry Bryant, Director for National Advocacy & Organizing for Housing Works in Northwest, was outraged that there was no prevention recommendations to accompany the report. He makes his viewpoint known in this brief op-ed.
"The study compared the 2008 and 2010 heterosexual sample groups and found that the overall rate of HIV infection climbed from 5.2 percent in 2008 to 8.0 percent in 2010. The rate among women doubled, from 6.3 percent to 12.1 percent. Though these rates are significantly higher, DOH officials attribute the increase to the District's efforts to get more people who were previously unaware they were HIV-positive tested and diagnosed. DOH estimates that between 20 and 40 percent of people infected with HIV in the District are unaware of their status."
Am I missing something? Shouldn't the results of the "Heterosexual HIV Study" be followed with "Prevention Recommendations?" Why are we -- and by "we," I mean "they" -- not asking the questions about what fuels prevalence? Why is it so hard to draw up a comprehensive approach to prevent the seeds of the epidemic from growing in the first place? Historic poverty and economic disparities coupled with growing housing instability and increasing homelessness, particularly among women are decimating this city. And we do n-o-t-h-i-n-g.
If there is any evidence of these numbers "improving" it's because poor people with (and without) HIV are leaving the city or dying in a box on 11th Street NW.
When does the Annual Evaluation for Job Performance come out on the "leaders" of HAHSTA? They should be demoted and fired.
Click here for more information about the 2011 Epidemiology Report including the Heterosexual HIV Study.
Are you a resident of the District who has a reaction to the report? Email me writeoncm@gmail.com.
Get email notifications every time this blog is updated.
---
| | |
| --- | --- |
| No comments have been made. | |
Add Your Comment:
(Please note: Your name and comment will be public, and may even show up in
Internet search results. Be careful when providing personal information! Before
adding your comment, please
read TheBody.com's Comment Policy
.)