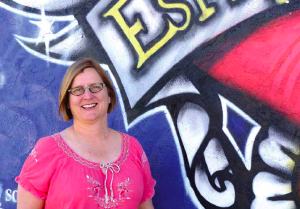 Betsy Brown, M.D., Southwest Care Center, Santa Fe, New Mexico. Photo: Jamie Hascall.
HIV doesn't discriminate geographically any more than it does any other way, but the experiences of physicians who treat it can differ significantly depending on where their clinics are. To get some sense of the differences, as well as the commonalities, PA asked three doctors to share their thoughts and experiences, especially when it comes to stigma, fear, and denial.
Dr. Betsy Brown has specialized in HIV since 1996 and practices in Santa Fe, New Mexico at the Southwest CARE Center.
Dr. Keith Henry leads the HIV Program at the Hennepin County Medical Center in Minneapolis, where he started the first AIDS clinic in Minnesota in 1986.
Dr. Paul Volberding founded the nation's first HIV program in San Francisco in 1981, and now practices at the VA and University of California, San Francisco.
How would you describe your patient population?
Brown: We have many Hispanics and whites and a significant number of Native Americans, but only a smattering of African Americans. We are also seeing more Central American immigrants. Most of our patients are gay men, although we do have a number with IV drug use as their HIV risk factor. We do not see many women, but it feels as if that is increasing. Our clinic is funded by Ryan White and we have many patients who would not have insurance if not for their diagnosis. We also have patients who have jobs and good income.
Henry: Initially, most of our patients were gay white men. Over the last three decades, I have seen a large shift toward more women (almost 30% of our population), more minorities (whites are less than 50%) and foreign-born people. We actively follow a large number of people (more than 350) from Africa.
Volberding: I see patients primarily at the VA, predominantly men; about 25% are people of color. They are great people. Most are very adherent, but many suffer from the same set of challenges in any HIV clinic -- smoking, alcohol, poverty. I also see a small number of patients at UCSF.
Advertisement
Compared to when you started in HIV medicine, what is your sense of HIV/AIDS stigma now?
Brown: I have been working in HIV medicine since 1996. Stigma is still strong here, especially in the more rural areas. The fear of being seen at our clinic is often palpable. We still have patients coming to the clinic who have a tough time disclosing their status and we still answer questions regarding fear families have of someone with HIV living in their household. This includes white, educated families as well as poorer, ethnically diverse ones. People also blame the person who is infected, believing it was being gay or their behavior that caused it -- using IV drugs, having multiple sex partners, etc.
Henry: When I started the first AIDS clinic in Minnesota in 1986, the stigma was staggering. The key driving factors then were links with homosexuality and fear of AIDS. For the openly gay community in the Twin Cities, acceptance regarding HIV and homosexuality has generally improved markedly. For closeted gay or bisexual men, rural residents, many women, minority groups (such as African Americans and Latinos), and foreign-born people (particularly those born in Africa), the experience of stigma remains severe.
Volberding: I saw my first AIDS patient at San Francisco General Hospital on July 1, 1981. The very earliest patients had little support, but the gay community quickly mobilized, providing services that replaced the absence of "normal" families. There never was any real panic in San Francisco despite the explosion of cases and our deep ignorance of the cause. Our early epidemic was almost exclusively in young gay men and the political and social climate was very accepting of that large community. I did have patients, especially with extensive facial KS, say they felt ostracized even within the gay community -- one said his only social life was movies at night so people wouldn't notice him. I felt some stigma directed at me, such as in "jokes" about shaking my hand, and it often felt as though devoting my career to AIDS was a bit "dissed" in the academic community. As the epidemic has matured and settled into a chronic disease affecting a largely impoverished population, often with underlying mental health and substance use issues, much of that early positive energy has waned.
Can you talk about what you are seeing from people who test positive for HIV -- their health status, their reactions, how they cope, their knowledge about HIV/AIDS?
Brown: The diagnosis is always difficult for people. I have seen people do okay until it's time to start meds; then reality sets in. Many people are diagnosed through our Es Mejor Saber ("It's Better to Know") testing program, but we have had several people not diagnosed until they were really ill because no one thought to do an HIV test. Many of my patients really thought they were low-risk and were shocked to find out they were infected. Their level of knowledge about transmission is really low. But it is not just the patients who aren't getting tested. The doctors don't think of it. I think that's the biggest change -- to many people it has become an invisible disease.
Henry: There is a very wide range of knowledge and experiences for newly diagnosed patients. Routine testing in pregnancy often identifies women with high CD4 counts, while sick inpatients often have a low CD4 count and a life-threatening AIDS-related illness. The local public health/sexually transmitted infections clinics test for HIV routinely and have been more often identifying patients recently infected. The average CD4 count for new patients seen at our public hospital has been in the 300s.
Volberding: AIDS was truly a death sentence in the early days and a diagnosis triggered deep panic. People coped with it and fought valiantly but then died. Now, HIV is still dreaded but definitely seen as a manageable challenge, a chronic disease.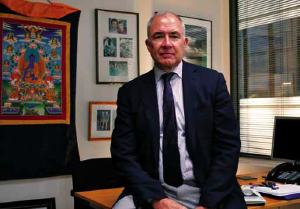 Paul Volberding, M.D., University of California at San Francisco. Photo: Ayrick Broin.
Does it seem to you that Americans have made slow progress with respect to tolerance and acceptance when it comes to attitudes about people with HIV/AIDS?
Brown: I think the biggest issue right now is that HIV/AIDS has become an invisible disease. People aren't hearing about people dying from AIDS, so they think the problem is gone.
Henry: I think that as long as people get much of their information from popular sources such as People magazine, FOX News, and celebrity tweets, ignorance about important health matters will remain widespread. Despite widespread availability of the Internet with good sources of medical information, use of credible sources and learning how to filter out poor sources seem to be trending in the wrong direction.
Volberding: I think this also goes with more acceptance of homosexuality, in general. Certain states excepted, many have learned more tolerance, which I think extends to more comfort about HIV.
Brown: Also, younger people did not live during the height of the AIDS epidemic, so they don't remember the deaths from it. They also aren't learning about sex in a meaningful way, since sex education is really more about abstinence now.
Do you see much stigma within the health care setting, including among medical providers?
Brown: Yes! A young female patient of mine was hospitalized with brain lesions appearing like toxoplasmosis on imaging studies. She had two brain biopsies that showed toxoplasmosis before they actually ran an HIV test! Another example is a gay male who had KS lesions biopsied and diagnosed before an HIV test was offered. Last week a nurse in a nursing home said he was worried about sores on an HIV-positive patient infecting someone else, even if they were scabbed over (no blood) and his viral load was undetectable.
Volberding: I don't think there's really much [stigma] these days. We had some examples early in the epidemic -- patients being "dumped" on San Francisco General Hospital, or nurses not changing wet sheets, but not anymore. I've been rather impressed that sexual histories are routine these days in house staff presentations.
Henry: Ignorance and avoidance are still a problem, like not routinely testing for HIV or connecting clinical situations (for example, shingles, thrush, or very low lymphocyte counts) to it. There is also a growing stigma against immigrants, including HIV-positive immigrants, regarding access to the health care system. Immigrants are having more problems with immigration status, so they're afraid to use health care even when needed.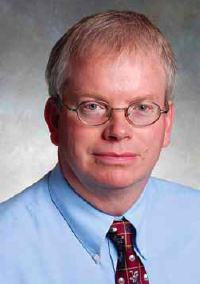 Keith Henry, M.D., Hennepin County Medical Center, Minneapolis, Minnesota. Photo courtesy of Keith Henry, M.D.
It's been 30 years. What do you think it will take to get people up to speed about HIV/AIDS -- transmission basics, the benefit of early treatment, understanding that treatment is prevention, etc.?
Brown: I wish I knew. I think the media could be more helpful. I think perhaps more characters with HIV, not just AIDS, in sitcoms, soap operas, and medical dramas, might help. We did a video locally regarding HIV and treatment, and why it's better to know your status and that treatment is a lot easier now (also available in Spanish). [Go to www.youtube.com/watch?v=yPt_2s5Dp6U]. I have had many friends and family -- educated and aware, I thought -- tell me how much they learned from it. We have also put up beautiful murals in town and have other promotions for this testing program.
Henry: Quality HIV education in the schools, coupled with appropriate and not just abstinence-based instruction, needs to be coupled with education of parents and a buy-in from the media to send consistent messages to youth and adolescents. I am not confident that we will see that happen in the current political and financial environment.
Volberding: Maybe a new Surgeon General willing to take this on?
For you, how big of a challenge are things like stigma, lack of information, and fear about being a person with HIV/AIDS, in helping your patients manage their health?
Volberding: I think this is going quite well, at least in San Francisco. I still hear of cases where a patient is in hiding with the diagnosis, but those seem rather rare.
Brown: It is a challenge to help patients when they are afraid of being seen at the clinic and will not come for appointments. I have a patient who was so fearful, we made arrangements for him to go somewhere else for a checkup so he could avoid being seen at our facility. He had not come in for a visit in over a year. We have people who will drive four hours across the state for their lab work and appointments, so they can maintain their privacy. Also, we have them draw their labs here in case they know someone working in the local lab. We reassure patients all the time that we are very careful with their health information, but they are still afraid. We reassure them that we will not speak to them or engage with them away from the clinic, unless they acknowledge us first. We have our pharmacy send meds by mail, unlabeled. We send mail unlabeled. We have special doctor's notes for missed work and school that are minimally identified. Even with these special efforts, we have patients who will stop coming for fear of being recognized. I feel like we actually do a decent job once a patient is in care -- we have a really high rate of undetectable virus in our patients who are on meds, but getting people into care and keeping them is the challenge.
Henry: Those issues are a constant presence in our clinic. We often have patients whose family (either in the U.S. or home in Africa or elsewhere) is unaware of their HIV status. When we have to use interpreters, often patients balk at having someone else who belongs to their local community involved with their care.
Brown: People are afraid their family or co-workers will see their meds and find out, and so are non-adherent for that reason. Also, patients often believe the HIV meds are toxic. I have at least two patients who avoided meds for 15 years because they thought all meds were like AZT!
Advertisement
What are the most effective approaches and tools you've found to help people get into care and stay there?
Brown: The rapid testing we do is helpful in getting people engaged in care. If someone from our clinic has given them the results, there is a familiar face that person can see when they return for the confirmatory test results. That face-to-face contact is crucial. We try to link people to care when a positive test occurs in our testing program, but a few people do disappear for a while. We have a multidisciplinary team with providers, nurses, and case managers, and we really try to help the patient feel safe and welcome. Even though the meds are so much easier to take and people can live a more normal life span, I think my patients really like that I take the time to acknowledge the challenges they face. It helps them trust me more.
Volberding: My own experience is that conveying the reality that HIV will kill in all cases unless it's treated, and that treatment can allow a normal life, are the things I focus on in keeping patients engaged. It usually seems to work.
Henry: The most important element is having a friendly and supportive team of good listeners so that every person coming into contact with the patient sends a positive message. One of my colleagues coined the term "stickiness" to describe the concept of us getting our patients to stick to clinic and get ongoing care. Any negative interaction with staff (even the billing office) that is interpreted the wrong (or unfortunately sometimes the right) way represents the weak link in the chain of care and can result in the patient leaving and not returning.
Brown: I also have many patients who don't trust conventional medicine. It takes extra time and reassurance that I am not just about them taking their HIV meds. After I spend time with them and work with their need to try alternatives first, I have been able to transition some to taking ART.
Henry: I believe that key elements to running a good HIV clinic include the availability of a benefits counselor/insurance guru with the patient's best interest at heart, peer navigators, outreach to the community, efforts to reach patients who have been lost to care, an in-house 340B pharmacy (a government-run drug discount program), case managers, social workers, safe sex and testing programs within the clinic, staff hired from the impacted communities, friendly secretaries and phone trees, sensitivity to diversity issues, and quality clinicians (many of whom are currently supported by the Ryan White Program and are not paid for or supported by standard insurance or billing mechanisms).
What do you think it will take to bridge the gap between the available tools of HIV management and the societal realities that make success difficult?
Volberding: We need a concerted and continuing effort at diagnosis and facilitated entry to care. I think we know how to do that, but it will be expensive when many seem to think we should be reducing, not expanding, public programs in health care.
Henry: Universal access to health care and the nurturing of user-friendly health care environments (sometimes called patient-friendly or medical home systems) are a good start to addressing key problems, including HIV care.
Brown: I really believe a single-payer national health plan would go a long way toward addressing these issues -- even though I don't think it will happen.