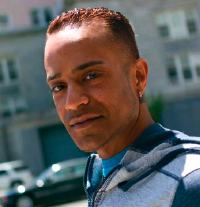 Juan Mercado, HIV positive since 2003. Photo: Joshua Thorne.
Juan Mercado grew up in Humboldt Park on the West Side of Chicago. Juan's father was involved with gangs and illegal activities and often in and out of jail. His mother had to work long hours to provide for both Juan and his older brother. As a result, Juan says, he was forced to grow up and be a man -- fast.
"I never had a real childhood like others, and wasn't allowed time to play, or just be a kid," says Juan. "Due to my father's gang affiliations, I was not allowed outside my house without a bodyguard, someone who could protect me, and [I had] a weapon concealed on me for emergencies." Like many teens, he began to rebel in high school, and he started skipping school, experimenting with drugs, and hanging out with the wrong crowd. "I was becoming a younger version of my father, but without being in a gang. I got my first fake I.D. at the age of 17 and began going out to clubs and bars. I was reintroduced to alcohol around this time, and used it as a social lubricant to allow myself to socialize with people without having to have my guard up. I was looking for love or a father figure in all the wrong places."
By the time Juan was 21, the partying and clubbing took its toll, and he was hospitalized due to a drug overdose. "This may have been a wake-up call for some, but for me it was just another night of fun. I did not take life seriously and just wanted to make up for not having the childhood I wanted. This continued until I got my HIV diagnosis on one of my several trips to a detox center and psychiatric ward due to alcohol, drugs, and depression."
Today Juan works at Test Positive Network (publisher of Positively Aware) in Chicago and is one of many peer navigators around the country whose job it is to assist and guide HIV-positive individuals by serving as buddy, mentor, coach, and advocate, and at the same time share his own personal story as a person who has already "been there." The program Juan works on, Project IN-CARE, is for men who have sex with men (MSM) who have been recently diagnosed, or who've fallen out of care. It's funded under the Positive Charge Initiative through AIDS United and in conjunction with AIDS Foundation of Chicago (AFC) and helps connect HIV-positive men of color to counseling, treatment, and peer-to-peer support.
"For many who are newly diagnosed and are dealing with stigma, fear of the unknown, disclosure, and false information, I like to reassure them that I can relate to what they are going through," says Juan. "I tell them that being HIV-positive does not mean that life is over, and that I am living proof of this." He tells them that education about the virus was useful for him, and that medication, taking care of his health, and living a healthier lifestyle keeps him undetectable. But what works for him may not work for them, and they need to see a doctor who specializes in HIV to find out what they should do to maintain their own good health.
Advertisement
Of course, it wasn't always this way. Juan was tested for HIV in 2003, at the age of 23 during one of his stays in detox, because his partner at that time thought he might have an STI (Sexually Transmitted Infection) and suggested Juan get tested as well. The doctor asked Juan if he also wanted an HIV test, but the only people Juan knew who were being tested for the virus on a regular basis were sex workers he knew from the club and bar scene.
"My first reaction was no, I did not need one, and that I looked and felt healthy," says Juan. "I never avoided being tested -- in all honesty, I thought that it could not happen to me."
When the HIV test came back positive, all Juan could focus on was that he was negative for STIs. When the nurse repeated that he had tested positive for HIV, he immediately went into denial and began to laugh, and told them they had made a mistake. "About five minutes into the conversation, I began to cry," says Juan. "I was telling them that they were wrong and I was thinking how or if I was going to tell my family the bad news."
When Juan did give his family the news, they informed him that they loved him regardless, and would get him the best care that was available. "I was fortunate to have my family's support. Without their assistance and unconditional love, I probably would not have seen a doctor until I came to terms with being positive." The actual visit was scary, he says, and he wasn't sure what to expect. "It seemed as if the doctor was speaking a foreign language while she was talking about the virus, antibodies, T-cells, and viral load."
Juan sees challenges in his own work similar to those he himself experienced, such as people who refuse services, are in denial, or may not believe they are HIV-positive. "Others may feel as if they don't need to see a doctor, or as if their life is already over and that no one can help them."
Honesty and trust are the main factors for Juan when it comes to building support with the participants. "It enables them to see that I am not just looking to enroll them in a program, but that I actually care for them, and will listen to what they have to say. I like to begin with getting to know the individual before we even discuss IN-CARE, and how they may benefit from working with a peer."
Unfortunately there have been times when he's come across an individual who he'd worked with for months, only to find they are no longer in care. "I've also worked with others who have unrealistic expectations, expect everything to be done for them, and do not gain the proper tools to advocate for themselves," says Juan, "and become too dependent on the peers."
"Today, after educating myself on the virus, attending trainings, and working in the field, I can honestly say that becoming positive was a blessing in disguise," he says. If he had not found out he was HIV-positive, he probably would have been on the same destructive path, living life a day at a time, but with no goals, aspirations, or even dreams. "It has now been almost three years since my last drink or drug, and I have accomplished so much in that amount of time."
Education is key, he says, and HIV is no longer a death sentence. Not only is knowledge important for people who are positive, but also for the ones who love them. "As a community we should advocate for our friends, family, and loved ones to know their status, and for those who are positive to get into care as soon as possible," says Juan.
"Becoming positive was a wake-up call for me -- it also forced me to care about my health, and grow up."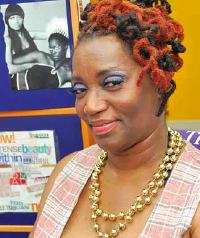 Sabrina Heard, HIV positive since 1989. Photo: Brittany R. Allen.
Diagnosed HIV-positive in 1989 when she was 32, Sabrina Heard was pregnant at the time with her daughter, and was tested during a routine visit to the doctor. Sabrina, like Juan, also says she didn't think she was at risk. "I was an active crack user, and I didn't think about a whole lot except smoking crack." When she found out she was positive, "I was pretty numb," says Sabrina, "and with the limited kind of information I had, I didn't internalize it as a death sentence [which it almost certainly was, in 1989]. I went into some kind of fantasy and stayed in denial for 11 years."
She would sometimes use her diagnosis as a defense mechanism. "If someone was going to hurt me, I'd say, 'I'm already dead.'"
Her children were placed into foster care after her life had deteriorated and she became sick, and she was told she would have to go into treatment in order to get them back. "Before, I used not going into treatment as an excuse -- 'who will take care of my kids?' Now it was, 'So what's your excuse now?' "
While in treatment for her addiction Sabrina had a roommate who would talk with her about her HIV and vitamins that she took, and was very casual about it. "After talking to her, I was ready to start taking those steps to find out about HIV and be able to talk about it like she was talking about it -- to not be so ashamed, so numb. I had never talked about it before that."
Sabrina says she needed to go through all that in order to get to where she is today. "I guess I was meant to be a community health worker so I can share what I know and experienced. Working on the front line is therapeutic."
Now a peer navigator at the Women's Collective in Washington, D.C., Sabrina says her role is to meet people where they are. "I've been supportive of those newly diagnosed patients -- they're going to be devastated. I want to make sure they get the confirmatory test and get into care. A lot of times I share my story.
Advertisement
"Sometimes you can be so deep down in that hole that you can't see the way out."
She says one of the most frustrating parts of her work is retention. "Sometimes my clients are still active users," she says. "I try to tell them, 'I don't care if you're using or not,' and let them know that I have a real interest in them staying healthy. The most important thing is not that they're using, it's that they take their medicines."
A recurring issue that she sees in her clients is that they put aside the need to go to the doctor or do things for themselves, in order to take care of their children or grandchildren. "And housing comes up a lot -- it's not so important that I make it to the doctor when I don't know where I'm going to sleep tonight."
One approach that Sabrina has found to work best in her work is to start by finding out where someone is in terms of HIV knowledge or stigma, and how they view other people's perception of them. "I do it one-on-one and find out what each person's barrier is."
So what does she think needs to happen to make testing, care, and treatment truly accessible for everyone? "I need someplace that's open in the evening, not just 9-5. I need access to a confirmatory test and a doctor, a 24-hour access-to-care kind of thing."
Oftentimes, people in emergency rooms and even in social services are not always sensitive to HIV, says Sabrina. "These are the kinds of things that keep people from coming back -- the rude receptionist or insensitive case manager, or whatever."
In the beginning she experienced stigma and denial very intensely. "Initially, I had a partner who was HIV-negative. I disclosed my status to him after we kissed. He didn't even care, but I was so sensitive and afraid that it bothered me that he didn't care. I couldn't take it."
Sabrina says she wasted a lot of time in her addiction, "I got off to a late start -- wasted 15 years smoking crack, and 30 years drinking alcohol."
"Some days I get discouraged and I talk with my children and say, 'I'm tired,' but I have to keep reminding myself this gift of life is precious and I've been entrusted with it so I have to take care of it. How dare I say I don't want to take care of it? Each day I remind myself that it is a precious responsibility. I have to take care of it because it's a gift."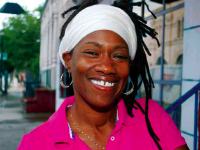 Gina Brown, HIV positive since 1994. Photo: Terry Gaskins
"Getting my test results was one of the most awful experiences I have ever known," says peer navigator Gina Brown. "The actual test wasn't that bad, it was the lack of information that I was given." The year was 1994, and Gina, who was 28 and pregnant at the time, was offered the test like Sabrina during a routine visit to her doctor at the OB-GYN clinic at Charity Hospital in New Orleans. "I was allowed to leave that day without being advised to use condoms until the results were in, or the fact that there were HIV-positive women and what that means for pregnant women."
Her reaction to finding out she was HIV-positive was not unusual, although the delivery of the news left a bit to be desired. "I remember it like it was yesterday," says Gina. "I received the phone call [to come in for my test results] on April 1st, yep, April Fools Day. I had to be convinced it was the hospital and not one of my girlfriends playing a joke on me." When she went into the hospital a few days later for her appointment, she entered the room and the woman behind the desk barely acknowledged her. Gina started getting nervous.
"I heard the words that would change my life. I was told, 'You have AIDS, and you're going to die!' I was devastated and cried for what felt like hours." That nurse, says Gina, at least did one thing right -- she called in another nurse. "The second nurse was an angel. She told me that I had tested positive for HIV -- there was no way the test could say if you had AIDS or not -- and that there was a study (076) going on at the hospital that I was a good candidate for." There were three things, the nurse told her, that would help her live a long life: Learn all she could about HIV; attend all PMC (primary medical care) appointments; and take all meds as prescribed. "I have lived by that advice for the last 18 years!"
Like Juan and Sabrina, Gina didn't think she was at risk. "I never thought I was at risk because the messages back then were still geared towards gay men, and I didn't know any women with HIV -- boy, was I wrong!"
Advertisement
Gina saw a doctor within two weeks of her diagnosis, and she says that because she enrolled in the research study, her experience was a good one. "Stigma was my greatest barrier," says Gina, "I was afraid of who would see me at the clinic, but I didn't let it keep me from getting into and staying in care.
"I can honestly say my HIV infection is a direct result of my being introduced to sex at such a young age [Gina was molested from ages 5-7] and never receiving any therapy. Therapy would have allowed me the opportunity to see that I wasn't a bad person and it was not my fault. Because of the molestation, I became sexually active at 13, I was very promiscuous, and I equated sex with love. I can remember always feeling empty and sex seemed to ease that feeling. I eventually got on drugs to escape the pain of the molestation and that's when I contracted HIV."
Gina says her stigma came from within. "I thought I knew how people would accept my diagnosis -- I started journaling, and that helped a lot. I put so much pressure and stress on myself, but once I did come out, everybody embraced me and my experience so much more fully.
"Before HIV, I was a very self-centered person -- it was all about me and I wasn't afraid to say it," says Gina about her earlier life. "Today I'm a giving, selfless, compassionate person; I care about the welfare of others. As an activist, I have to set a good example for those coming behind me."
Today Gina is working at the New Orleans AIDS Task Force (NO/AIDS), and as a peer advocate she assists clients in not only navigating the Ryan White system of care, but also helping them see that they are not alone. "For me, it has always been about giving hope to clients," says Gina. "As a peer, it's important to remember that you are not a case manager, and are limited in your role, but that does not mean you are less valuable."
Gina tells clients that she'll always be honest with them, but they have to be honest with her. "If they aren't taking their meds as prescribed, they need to tell me that. I make sure they know that this is a partnership and in order for this to work, we have to work together."
The biggest barrier Gina sees is housing, while the most frustrating part of the job for her is lack of funding. "We all know that housing is health care -- if a person is stably housed they tend to get into and stay in care." But "clients have been placed on ADAP waiting lists for the past two years and that's totally unacceptable. Also the complacency of clients is frustrating at times."
In the black community, myths and rumors are the biggest barrier to people getting tested, says Gina. "If the community or society was more accepting of positive people, then I think more people would get tested. The black church should be at the forefront of this epidemic, but unfortunately, they aren't involved for the most part.
"I think the general public has almost forgotten that HIV is here and it's still devastating people, especially people of color," says Gina. "In the black community, HIV is still seen as a death sentence, or some people think there's a cure because Magic Johnson is [supposedly] 'cured.' I think we can do a better job of educating the public so that they are aware of the body fluids that HIV is found in, and the fact that HIV is not a casual disease."
Gina likes to remember on a daily basis how blessed she is. "I have great health, a job I love, two great kids, and two grandbabies. I journal, meditate, work out, I'm now back in the dating scene -- the only thing that scares me -- and I have two degrees."
Gina says she'd be lying if she said she was okay with having HIV. "There's still a part of me that wishes I didn't have it, especially when I have to disclose to a man I may like. If I tell him, how will he see me? Will he stay?
"There's also a part of me that can see how having HIV has had a positive impact on my life. I have traveled to places I never thought I'd go, I've been a part of groundbreaking research -- and I get to do something every day that I love doing."