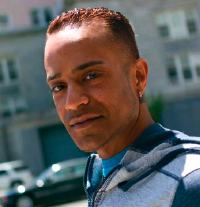 Juan Mercado, HIV positive since 2003. Photo: Joshua Thorne.
Juan Mercado grew up in Humboldt Park on the West Side of Chicago. Juan's father was involved with gangs and illegal activities and often in and out of jail. His mother had to work long hours to provide for both Juan and his older brother. As a result, Juan says, he was forced to grow up and be a man -- fast.
"I never had a real childhood like others, and wasn't allowed time to play, or just be a kid," says Juan. "Due to my father's gang affiliations, I was not allowed outside my house without a bodyguard, someone who could protect me, and [I had] a weapon concealed on me for emergencies." Like many teens, he began to rebel in high school, and he started skipping school, experimenting with drugs, and hanging out with the wrong crowd. "I was becoming a younger version of my father, but without being in a gang. I got my first fake I.D. at the age of 17 and began going out to clubs and bars. I was reintroduced to alcohol around this time, and used it as a social lubricant to allow myself to socialize with people without having to have my guard up. I was looking for love or a father figure in all the wrong places."
By the time Juan was 21, the partying and clubbing took its toll, and he was hospitalized due to a drug overdose. "This may have been a wake-up call for some, but for me it was just another night of fun. I did not take life seriously and just wanted to make up for not having the childhood I wanted. This continued until I got my HIV diagnosis on one of my several trips to a detox center and psychiatric ward due to alcohol, drugs, and depression."
Today Juan works at Test Positive Network (publisher of Positively Aware) in Chicago and is one of many peer navigators around the country whose job it is to assist and guide HIV-positive individuals by serving as buddy, mentor, coach, and advocate, and at the same time share his own personal story as a person who has already "been there." The program Juan works on, Project IN-CARE, is for men who have sex with men (MSM) who have been recently diagnosed, or who've fallen out of care. It's funded under the Positive Charge Initiative through AIDS United and in conjunction with AIDS Foundation of Chicago (AFC) and helps connect HIV-positive men of color to counseling, treatment, and peer-to-peer support.
"For many who are newly diagnosed and are dealing with stigma, fear of the unknown, disclosure, and false information, I like to reassure them that I can relate to what they are going through," says Juan. "I tell them that being HIV-positive does not mean that life is over, and that I am living proof of this." He tells them that education about the virus was useful for him, and that medication, taking care of his health, and living a healthier lifestyle keeps him undetectable. But what works for him may not work for them, and they need to see a doctor who specializes in HIV to find out what they should do to maintain their own good health.
Advertisement
Of course, it wasn't always this way. Juan was tested for HIV in 2003, at the age of 23 during one of his stays in detox, because his partner at that time thought he might have an STI (Sexually Transmitted Infection) and suggested Juan get tested as well. The doctor asked Juan if he also wanted an HIV test, but the only people Juan knew who were being tested for the virus on a regular basis were sex workers he knew from the club and bar scene.
"My first reaction was no, I did not need one, and that I looked and felt healthy," says Juan. "I never avoided being tested -- in all honesty, I thought that it could not happen to me."
When the HIV test came back positive, all Juan could focus on was that he was negative for STIs. When the nurse repeated that he had tested positive for HIV, he immediately went into denial and began to laugh, and told them they had made a mistake. "About five minutes into the conversation, I began to cry," says Juan. "I was telling them that they were wrong and I was thinking how or if I was going to tell my family the bad news."
When Juan did give his family the news, they informed him that they loved him regardless, and would get him the best care that was available. "I was fortunate to have my family's support. Without their assistance and unconditional love, I probably would not have seen a doctor until I came to terms with being positive." The actual visit was scary, he says, and he wasn't sure what to expect. "It seemed as if the doctor was speaking a foreign language while she was talking about the virus, antibodies, T-cells, and viral load."
Juan sees challenges in his own work similar to those he himself experienced, such as people who refuse services, are in denial, or may not believe they are HIV-positive. "Others may feel as if they don't need to see a doctor, or as if their life is already over and that no one can help them."
Honesty and trust are the main factors for Juan when it comes to building support with the participants. "It enables them to see that I am not just looking to enroll them in a program, but that I actually care for them, and will listen to what they have to say. I like to begin with getting to know the individual before we even discuss IN-CARE, and how they may benefit from working with a peer."
Unfortunately there have been times when he's come across an individual who he'd worked with for months, only to find they are no longer in care. "I've also worked with others who have unrealistic expectations, expect everything to be done for them, and do not gain the proper tools to advocate for themselves," says Juan, "and become too dependent on the peers."
"Today, after educating myself on the virus, attending trainings, and working in the field, I can honestly say that becoming positive was a blessing in disguise," he says. If he had not found out he was HIV-positive, he probably would have been on the same destructive path, living life a day at a time, but with no goals, aspirations, or even dreams. "It has now been almost three years since my last drink or drug, and I have accomplished so much in that amount of time."
Education is key, he says, and HIV is no longer a death sentence. Not only is knowledge important for people who are positive, but also for the ones who love them. "As a community we should advocate for our friends, family, and loved ones to know their status, and for those who are positive to get into care as soon as possible," says Juan.
"Becoming positive was a wake-up call for me -- it also forced me to care about my health, and grow up."