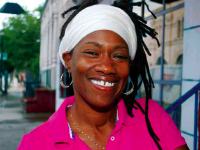 Gina Brown, HIV positive since 1994. Photo: Terry Gaskins
"Getting my test results was one of the most awful experiences I have ever known," says peer navigator Gina Brown. "The actual test wasn't that bad, it was the lack of information that I was given." The year was 1994, and Gina, who was 28 and pregnant at the time, was offered the test like Sabrina during a routine visit to her doctor at the OB-GYN clinic at Charity Hospital in New Orleans. "I was allowed to leave that day without being advised to use condoms until the results were in, or the fact that there were HIV-positive women and what that means for pregnant women."
Her reaction to finding out she was HIV-positive was not unusual, although the delivery of the news left a bit to be desired. "I remember it like it was yesterday," says Gina. "I received the phone call [to come in for my test results] on April 1st, yep, April Fools Day. I had to be convinced it was the hospital and not one of my girlfriends playing a joke on me." When she went into the hospital a few days later for her appointment, she entered the room and the woman behind the desk barely acknowledged her. Gina started getting nervous.
"I heard the words that would change my life. I was told, 'You have AIDS, and you're going to die!' I was devastated and cried for what felt like hours." That nurse, says Gina, at least did one thing right -- she called in another nurse. "The second nurse was an angel. She told me that I had tested positive for HIV -- there was no way the test could say if you had AIDS or not -- and that there was a study (076) going on at the hospital that I was a good candidate for." There were three things, the nurse told her, that would help her live a long life: Learn all she could about HIV; attend all PMC (primary medical care) appointments; and take all meds as prescribed. "I have lived by that advice for the last 18 years!"
Like Juan and Sabrina, Gina didn't think she was at risk. "I never thought I was at risk because the messages back then were still geared towards gay men, and I didn't know any women with HIV -- boy, was I wrong!"
Advertisement
Gina saw a doctor within two weeks of her diagnosis, and she says that because she enrolled in the research study, her experience was a good one. "Stigma was my greatest barrier," says Gina, "I was afraid of who would see me at the clinic, but I didn't let it keep me from getting into and staying in care.
"I can honestly say my HIV infection is a direct result of my being introduced to sex at such a young age [Gina was molested from ages 5-7] and never receiving any therapy. Therapy would have allowed me the opportunity to see that I wasn't a bad person and it was not my fault. Because of the molestation, I became sexually active at 13, I was very promiscuous, and I equated sex with love. I can remember always feeling empty and sex seemed to ease that feeling. I eventually got on drugs to escape the pain of the molestation and that's when I contracted HIV."
Gina says her stigma came from within. "I thought I knew how people would accept my diagnosis -- I started journaling, and that helped a lot. I put so much pressure and stress on myself, but once I did come out, everybody embraced me and my experience so much more fully.
"Before HIV, I was a very self-centered person -- it was all about me and I wasn't afraid to say it," says Gina about her earlier life. "Today I'm a giving, selfless, compassionate person; I care about the welfare of others. As an activist, I have to set a good example for those coming behind me."
Today Gina is working at the New Orleans AIDS Task Force (NO/AIDS), and as a peer advocate she assists clients in not only navigating the Ryan White system of care, but also helping them see that they are not alone. "For me, it has always been about giving hope to clients," says Gina. "As a peer, it's important to remember that you are not a case manager, and are limited in your role, but that does not mean you are less valuable."
Gina tells clients that she'll always be honest with them, but they have to be honest with her. "If they aren't taking their meds as prescribed, they need to tell me that. I make sure they know that this is a partnership and in order for this to work, we have to work together."
The biggest barrier Gina sees is housing, while the most frustrating part of the job for her is lack of funding. "We all know that housing is health care -- if a person is stably housed they tend to get into and stay in care." But "clients have been placed on ADAP waiting lists for the past two years and that's totally unacceptable. Also the complacency of clients is frustrating at times."
In the black community, myths and rumors are the biggest barrier to people getting tested, says Gina. "If the community or society was more accepting of positive people, then I think more people would get tested. The black church should be at the forefront of this epidemic, but unfortunately, they aren't involved for the most part.
"I think the general public has almost forgotten that HIV is here and it's still devastating people, especially people of color," says Gina. "In the black community, HIV is still seen as a death sentence, or some people think there's a cure because Magic Johnson is [supposedly] 'cured.' I think we can do a better job of educating the public so that they are aware of the body fluids that HIV is found in, and the fact that HIV is not a casual disease."
Gina likes to remember on a daily basis how blessed she is. "I have great health, a job I love, two great kids, and two grandbabies. I journal, meditate, work out, I'm now back in the dating scene -- the only thing that scares me -- and I have two degrees."
Gina says she'd be lying if she said she was okay with having HIV. "There's still a part of me that wishes I didn't have it, especially when I have to disclose to a man I may like. If I tell him, how will he see me? Will he stay?
"There's also a part of me that can see how having HIV has had a positive impact on my life. I have traveled to places I never thought I'd go, I've been a part of groundbreaking research -- and I get to do something every day that I love doing."