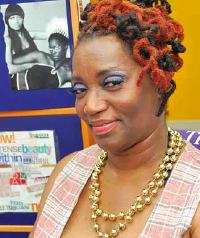 Sabrina Heard, HIV positive since 1989. Photo: Brittany R. Allen.
Diagnosed HIV-positive in 1989 when she was 32, Sabrina Heard was pregnant at the time with her daughter, and was tested during a routine visit to the doctor. Sabrina, like Juan, also says she didn't think she was at risk. "I was an active crack user, and I didn't think about a whole lot except smoking crack." When she found out she was positive, "I was pretty numb," says Sabrina, "and with the limited kind of information I had, I didn't internalize it as a death sentence [which it almost certainly was, in 1989]. I went into some kind of fantasy and stayed in denial for 11 years."
She would sometimes use her diagnosis as a defense mechanism. "If someone was going to hurt me, I'd say, 'I'm already dead.'"
Her children were placed into foster care after her life had deteriorated and she became sick, and she was told she would have to go into treatment in order to get them back. "Before, I used not going into treatment as an excuse -- 'who will take care of my kids?' Now it was, 'So what's your excuse now?' "
While in treatment for her addiction Sabrina had a roommate who would talk with her about her HIV and vitamins that she took, and was very casual about it. "After talking to her, I was ready to start taking those steps to find out about HIV and be able to talk about it like she was talking about it -- to not be so ashamed, so numb. I had never talked about it before that."
Sabrina says she needed to go through all that in order to get to where she is today. "I guess I was meant to be a community health worker so I can share what I know and experienced. Working on the front line is therapeutic."
Now a peer navigator at the Women's Collective in Washington, D.C., Sabrina says her role is to meet people where they are. "I've been supportive of those newly diagnosed patients -- they're going to be devastated. I want to make sure they get the confirmatory test and get into care. A lot of times I share my story.
Advertisement
"Sometimes you can be so deep down in that hole that you can't see the way out."
She says one of the most frustrating parts of her work is retention. "Sometimes my clients are still active users," she says. "I try to tell them, 'I don't care if you're using or not,' and let them know that I have a real interest in them staying healthy. The most important thing is not that they're using, it's that they take their medicines."
A recurring issue that she sees in her clients is that they put aside the need to go to the doctor or do things for themselves, in order to take care of their children or grandchildren. "And housing comes up a lot -- it's not so important that I make it to the doctor when I don't know where I'm going to sleep tonight."
One approach that Sabrina has found to work best in her work is to start by finding out where someone is in terms of HIV knowledge or stigma, and how they view other people's perception of them. "I do it one-on-one and find out what each person's barrier is."
So what does she think needs to happen to make testing, care, and treatment truly accessible for everyone? "I need someplace that's open in the evening, not just 9-5. I need access to a confirmatory test and a doctor, a 24-hour access-to-care kind of thing."
Oftentimes, people in emergency rooms and even in social services are not always sensitive to HIV, says Sabrina. "These are the kinds of things that keep people from coming back -- the rude receptionist or insensitive case manager, or whatever."
In the beginning she experienced stigma and denial very intensely. "Initially, I had a partner who was HIV-negative. I disclosed my status to him after we kissed. He didn't even care, but I was so sensitive and afraid that it bothered me that he didn't care. I couldn't take it."
Sabrina says she wasted a lot of time in her addiction, "I got off to a late start -- wasted 15 years smoking crack, and 30 years drinking alcohol."
"Some days I get discouraged and I talk with my children and say, 'I'm tired,' but I have to keep reminding myself this gift of life is precious and I've been entrusted with it so I have to take care of it. How dare I say I don't want to take care of it? Each day I remind myself that it is a precious responsibility. I have to take care of it because it's a gift."