Piecing the Puzzle Together
Summer 2012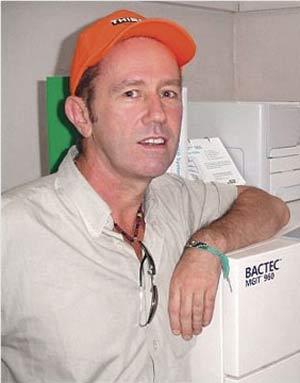 Photo courtesy of: Mark Harrington
Mark Harrington
Pioneering activist, policy advocate, long-term HIV survivor
New York, New York
At every stage of what should be a seamless referral-care-retention-treatment-adherence-success linkage, the system fails people with HIV. Obama's national AIDS plan is failing. The illusion that better epidemic control can be achieved by efficiencies without new resources is a delusion.
U.S. HIV treatment coverage rates are a disgrace. New therapies developed and approved in the past decade, much safer and more durable than the first two generations of HIV therapy, are not reaching 64% of those who need them. Annual new HIV infection rates haven't budged since 1990. Annual AIDS deaths have remained near the same level since around 1998.
Former Confederate states and some Tea Party-dominated ones have disgracefully long ADAP waiting lists, indicating the indifference of those states' legislators, governors, and voters to the people living with HIV in their midst. Only small islands of relative homogeneity and affluence, like San Francisco, are even trying to achieve universal access and uptake. While the past year has seen great excitement about the preventive promise of earlier ART and treatment as prevention (TasP), this promise will remain unrealized until we have achieved treatment as treatment everywhere (TASTE).
---

This article was provided by
Positively Aware
. It is a part of the publication
Positively Aware
. Visit
Positively Aware's website
to find out more about the publication.
---
| | |
| --- | --- |
| No comments have been made. | |
Add Your Comment:
(Please note: Your name and comment will be public, and may even show up in
Internet search results. Be careful when providing personal information! Before
adding your comment, please
read TheBody.com's Comment Policy
.)