Piecing the Puzzle Together
Summer 2012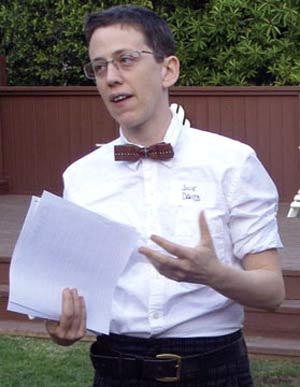 Photo by: Ed Davids
Julie Davids
Activist, educator, organizer
New York, New York
It's no secret that bias and ignorance persist when it comes to HIV. And why shouldn't they? Even well-funded public education projects that splash across subways and billboards often just mention "the test" or "know your status" rather than spelling it out: HIV. AIDS.
Why is HIV stigmatized? Sex and drugs, baby. Race and class. Gender bias and homo-hatred, homophobia, violence against transgender and gender variant people.
We may be able to test and treat our way to lower community viral load (or maybe not), but confronting the factors that leave people homeless, beaten, sick, broke or dead (even if they are not HIV-positive) are going to be a lot harder to tackle -- and are going to keep HIV stigma and bias alive and well. Only by encouraging those who bear the brunt of stigma to tell their own truth and organize for change will we be able to undermine the power of capitalism to divide and conquer us.
---

This article was provided by
Positively Aware
. It is a part of the publication
Positively Aware
. Visit
Positively Aware's website
to find out more about the publication.
---
| | |
| --- | --- |
| No comments have been made. | |
Add Your Comment:
(Please note: Your name and comment will be public, and may even show up in
Internet search results. Be careful when providing personal information! Before
adding your comment, please
read TheBody.com's Comment Policy
.)