Piecing the Puzzle Together
Summer 2012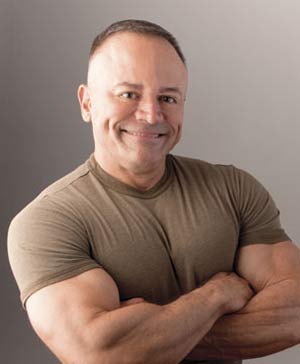 Photo: © Nelson Vergel
Nelson Vergel
Activist, fitness expert, author, long-term HIV survivor
Houston, Texas
No amount of money spent on billboards can educate others as well as what can be accomplished with our visibility. People can see that we are living well and have productive lives, and those who know us also learn about things we go through to stay healthy and navigate the system. We all need more HIV-positive role models to show their faces to the world. But I know doing this is virtually impossible for many people who would be discriminated against if the world knew their HIV status.
I'm very lucky -- no one has judged me except my father, who still does not talk to me after 25 years. My life has been enriched ever since I came out of the HIV closet and started helping others through my work. People see me as a healthy man with HIV who has turned life around for the better, and they respect that.
We are survivors and warriors. Letting go of shame is the biggest challenge for many of us. Knowing that we deserve good health care and a healthy long life makes us stay on treatment and adhere to our medical care.
---

This article was provided by
Positively Aware
. It is a part of the publication
Positively Aware
. Visit
Positively Aware's website
to find out more about the publication.
---
| | |
| --- | --- |
| No comments have been made. | |
Add Your Comment:
(Please note: Your name and comment will be public, and may even show up in
Internet search results. Be careful when providing personal information! Before
adding your comment, please
read TheBody.com's Comment Policy
.)