Simply Rob: Advocate and Artist, a Man of Words Uses Them to Spread Truth
Summer 2012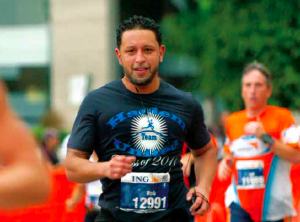 Rob Vassilarakis
All the negative HIV test results Rob Vassilarakis kept getting made him think he was having safe enough sex. "I was wrong," he says. In 1993, at age 22, he tested positive for HIV.
"When I was 17, I was disowned for being gay after my mother read some of my journal entries. I was forced to leave my mama's-boy existence in the suburbs of Long Island. I fled to New York City with my newly found freedom and found work in night clubs like the Sound Factory, the Tunnel, and Roxy. I used sex as a way to cope and escape my troubles. I was lonely, missing home, and welcomed any and all kinds of sexual attention as a substitute for love.
"I started using sex as a way to negotiate, to connect, to feel wanted and desired, to find acceptance, and as a means to an end. I was receiving a lot of attention, sometimes to the point where it would get overwhelming, but if people were willing to dish it out, I was more than happy to take it. I never knew that the time would come (like with my own family) when they would snatch it back and throw me away. It wasn't love, but for the moment, I reveled in it.
"I had met an older gentleman who spent a lot of time mentoring me after I was thrown out of my mom's house. He knew the circumstances of my life and understood that as green as I was, I might be easily led astray. He was more of a father to me than anyone else I'd known. He also had advanced AIDS. I knew other people who had died of AIDS, but this was the first time I saw someone, who seemed relatively healthy when I met him, deteriorate over three years and die. I watched him go from healthy to dementia, tubes everywhere, diapers ...
"I was traumatized by that. I tried to reach out to my mother, who kept referring to him as a thing -- 'poor thing,' she'd say -- as if this is where you end up if you live the gay 'lifestyle,' like the plague that's referred to in Revelations. He died in March of 1993 and I tested positive that summer. I think I had an underlying self-destructive element that stemmed from loss, rejection, and internalized homophobia. In retrospect, I feel my testing positive for HIV was a self-fulfilling prophecy."
Now
Nineteen years after his HIV diagnosis, Vassilarakis is a healthy guy -- a marathoner, in fact. He is a full-time HIV outreach worker and a full-hearted spoken-word artist. His life today is a long, hazardous road from where he started in those matter-of-factly hopeful weeks after his diagnosis and the life-threatening years that followed.
"Initially, after learning about my status, I made a largely successful attempt to take back my life and live a healthier lifestyle. I imagined I would live until 2000 and I intended to live each day as if it were my last, enjoying them to the fullest. I didn't think I'd live to see the year 2001."
Harsh Reality
"I wasn't prepared for all the stigma and rejection associated with disclosure. For someone whose identity and self-worth was so dependent upon being sexually desired, the rejection was devastating. I went into the closet about my status. This made me feel horrible about myself when I would engage in sex but not as bad as being rejected for having HIV.
"I had already begun to experiment with drugs, but now they made it easier to hook up without disclosing. Eventually, I found myself caught in the grips of a crystal meth addiction for many years. I unraveled in the intensity of the drug-driven sex and ended up a homeless, strung-out, intravenous crystal meth addict with little more than my life and the clothes on my back.
"In October, 2006, with few options and death breathing down my neck, I checked into a rehab program within a Pentecostal church in the South Bronx. I made the mistake of disclosing my sexual orientation and the pastors regularly made an example of me during Wednesday and Sunday services, asking God to have mercy on those suffering from homosexuality and quoting [so-called] anti-gay scriptures in the Bible. After a month of judgment and scrutiny, I was back on the street again.
"I walked almost 50 blocks to the opposite side of the Bronx to a friend's apartment, hoping he would let me in to use his computer. I Googled 'drug treatment homeless NYC' and a list of places came up. I closed my eyes, put my finger on the screen and made the call to the one on which my finger had landed, a six- to- nine-month inpatient program in Harlem. It was a step up from a homeless shelter or a minimum-security correctional facility.
"I stayed there for a year with hundreds of other residents who had either been released to the facility as a condition of their parole, as an alternative to incarceration, or who, like me, had walked in homeless off the street. I never disclosed my sexual orientation or HIV status out of concern for my safety and well-being."
Harlem United
During the year he spent in drug treatment, Vassilarakis made his way to Harlem United, a nearby HIV/AIDS support center without which, he says, "I don't know if I would have made it through." Group support allowed Vassilarakis to start processing "gay," "HIV-positive," and "addict" in a safe place with others who were working through the same issues of identity. Today, he's an outreach worker at Harlem United, helping others trying to make it through.
"To date, I am four years free of my crystal meth addiction. In 2010 I took on the challenge of running 26.2 miles in the NYC Marathon to benefit Harlem United. I made this decision for two reasons. One was to affirm life 19 years after my HIV diagnosis and my battle with crystal meth addiction. The other was to give back to the agency that has provided, and continues to provide, me with support.
"Preparing for and running a marathon has been such a metaphor for my life. Challenging and even painful at times, but in the end, I emerge victorious and all the stronger because of it.
"I am totally out about my HIV status. I have done much work to get to this place of acceptance and my status is not something that can be used as a weapon against me, nor does it define me. It is, however, an aspect of my identity and I wear it proudly, like a badge of honor."
More From This Resource Center
---

This article was provided by
Positively Aware
. It is a part of the publication
Positively Aware
. Visit
Positively Aware's website
to find out more about the publication.
---
| | |
| --- | --- |
| No comments have been made. | |
Add Your Comment:
(Please note: Your name and comment will be public, and may even show up in
Internet search results. Be careful when providing personal information! Before
adding your comment, please
read TheBody.com's Comment Policy
.)