One More for the Road
By Carol Hyman

June 22, 2012
Carol Hyman.
June 19, 2 p.m.; Maize, Kan.
It is common knowledge that cyclists eat more than "normal" people. A cyclist doing a 50-mile ride on the weekend will put away quite a few calories.
But how about four cyclists riding 3,000 miles in less than a week, and their 11 crew members who are navigating, driving vans, fixing bikes and doing a whole host of tasks to keep those four racers going. And now imagine them living out of a recreational vehicle that would be close quarters for a family of four. And remember the RV has only a microwave oven, three burners and a refrigerator that could only be described as "cute."
Since it is the team's second year of RAAM the crew has a much better grip on how to keep the races and crew well fed. Several pounds of rice and quinoa were cooked up ahead of time and frozen. The grains would be the basis for a racer favorite -- a stew-like meal made with canned chicken and canned lentil vegetable soup. Now while this is not something anyone would order in a restaurant or even make at home, it is number one with a bullet on the Team4HIVHope hit parade. It is easily digested and full of calories and protein.
Since crew and racers are often on the road, grab and go food is important. Sandwiches are made by the dozen. Another favorite is a banana and peanut butter wrapped in a tortilla. The team and crew eat enough bananas to support the economy of a Central American village.
Fast food is not shunned by the racers and crew, and again, while most of us avoid these places like the plague in "real" life, the salads and burgers provide a welcome change from the daily dose of stews and spaghetti.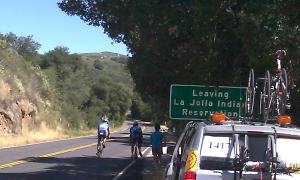 On the road.
Liquid is important to both racers and crew and the team will go through countless gallons of water during the race. And second to water are caffeinated drinks. Everyone is operating on little sleep, so each vehicle has a cooler with soft drinks as well as V8, big with the racers for its sodium content. And the only appliance brought on RAAM is a coffee maker.
While the racers will no doubt burn off every morsel of food, the same cannot be said for the crew. And no matter what good intentions we all have, hours behind the wheel or navigating leads to seeing what else is in that goody bag Lorraine packed for the shift. While crew members have the duty to get the bikes on and off vehicles and may have to occasionally chase after a racer with a water bottle, most of the work is done from a sitting position.
So while the week will bring back amazing memories for everyone, the crew may be taking home a little extra they would rather leave behind.
Get email notifications every time this blog is updated.
---
Add Your Comment:
(Please note: Your name and comment will be public, and may even show up in
Internet search results. Be careful when providing personal information! Before
adding your comment, please
read TheBody.com's Comment Policy
.)