The Normal Heart's Stunning Debut at Arena Stage
By Candace Y.A. Montague

June 18, 2012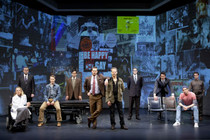 The Normal Heart is anything but as it comes to Kreeger Theater. Photo credit: Arena Stage.
Question: How do you tell the world that your house is on fire without using the word "fire?" This is the conundrum facing Ned Weeks, a feisty, young gay male writer in New York during the 1980s in Larry Kramer's play The Normal Heart. Just in time for the International AIDS Conference, this stage production about the beginnings of AIDS in New York during the early 1980s, has come to Arena Stage's Kreeger Theater with an extremely talented cast, a mesmeric storyline, and high acclaim. It is the perfect accentuation to the conference.
In the play, Ned Weeks visits the forthright and passionate Dr. Emma Brookner to research the "pneumonia" that seems to only target homosexual males in the city. She charged him with getting to the bottom of why a disease is killing so many young gay males and yet people, including the government, remain silent about it. After much contemplation, Ned decides to recruit some of his friends along with his conservative, heterosexual attorney brother Ben to form an organization to demand help for the gay community. The trouble is that people are afraid to be associated with homosexuality and the disease itself. Even his colleagues in the group are afraid of coming out of the closet. This fear leads to in fighting that puts the whole mission in peril. After a couple of stunning monologues and a few hundred more names are added to the list of the dead, the cast realizes that this epidemic is going to take more than one man on a Chicken Little mission to get people to wake up. Unfortunately, the ending hasn't come yet as there is still no cure for HIV to this day.
This Examiner is not a theater critic so I won't delve into the arts portion. I will only say that it is the best play I have ever seen. But what makes this play so relevant to this column and to the International AIDS Conference is that the obstacles that blocked progress 30 years ago are still blocking progress today. Fear and stigma continue to deflect efforts to make serious strides against HIV/AIDS. Granted this virus is nowhere near as obscure and deadly as it was long ago. We have many victories to count against this disease. Scientific advances have slowed the virus way down and people are living longer. Politicians are not only recognizing the LGBT community more but marriage for them is becoming legal in more states. There are hundreds of LGBT organizations around the country that proudly fight for their rights.
Advertisement
But we have a long way to go before the final curtain call can come for Larry Kramer's masterpiece. If we are truly "Turning the Tide Together" as the IAC's theme suggests, we have to collectively push for an end to the epidemic; not just treat the symptoms. It's time to let go of that stigma that keeps people from being tested. It's time to shame people who harbor and even endorse homophobia. It's time to stop being afraid of fighting for LGBT rights. It's time to acknowledge that this virus hasn't been a "gay disease" since the 1980s and that everyone is affected in someway. Finally, it's time to value human life over money, politics, and social acceptance.
I highly endorse this play and encourage all of you to see it while it's here in the District. It speaks to anyone who has ever had to wear a mask while screaming on the inside. Whether you are a theater buff or a spectator waiting to get involved in advocacy in some way, The Normal Heart will be an unforgettable visit to the theater. It will stick with you long after the applause fades into the background.
The Normal Heart runs June 8th to July 29th in the Kreeger Theater at Arena Stage in Southwest. For more information about the play or for tickets, click here.
Get email notifications every time this blog is updated.
---
| | |
| --- | --- |
| No comments have been made. | |
Add Your Comment:
(Please note: Your name and comment will be public, and may even show up in
Internet search results. Be careful when providing personal information! Before
adding your comment, please
read TheBody.com's Comment Policy
.)