RAAM: A Race Like No Other
By Carol Hyman

June 20, 2012
Carol Hyman.
June 17, afternoon; Flagstaff, Ariz.
RAAM is not like many other races. Most people who know anything about bicycle racing are familiar with the Tour de France. There is no question the Tour de France is difficult. Teams ride hundreds of miles, climb daunting hills and speed down treacherous mountainsides. Those things are also true of RAAM. But in many ways, that is where the similarity ends. Every day the Tour de France racers tackle another stage. In RAAM, it is basically one stage -- one very very long stage of 3,000 miles. At night the Tour de France racers retire to a hotel. The RAAM racers, when they get to sleep, climb into a bunk in an RV or curl up on the floor of a follow van. And they aren't getting 8 hours. Our four-man team is divided into two sub-teams, so while two are out racing for three or four hours, the other two are getting cleaned up, eating and trying to catch a few winks in the bumpy RV.
And winning the Tour de France promises big prize money and product endorsements. The prize for winning RAAM is, well, winning RAAM.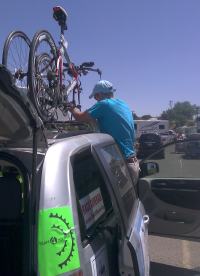 Getting the bike on the roof rack.
The Tour de France and races like it are fraught with scandal -- blood doping, cheating. None of that goes on in RAAM. RAAM racers are out to prove something and there is no question cheating would take away from that. So no one cheats. In fact, it is not unusual to see competitors root for each other. This year, two of our friendly foes from the Crank Addicts, a team we raced last year, are crewing for Team4HIVHope.
That is not to say we don't want to win! Today Jim and Patrick conquered Yarnell Grade, a 7-mile climb of 1,900 feet. When racers and crew returned to the RV they were still full of the excitement of overtaking several teams, and the crew marveled at how well they rode. But in the RV was the reality of getting cleaned up and reminding Jim to take his HIV meds.
At this point, Day Two, the team is not in the lead, nor are they trailing. They are using their maturity and years of experience to pace themselves. As Jim said, there are still 2,500 miles to go, and several more tough climbs and exhilarating descents to come.
Get email notifications every time this blog is updated.
---
Add Your Comment:
(Please note: Your name and comment will be public, and may even show up in
Internet search results. Be careful when providing personal information! Before
adding your comment, please
read TheBody.com's Comment Policy
.)