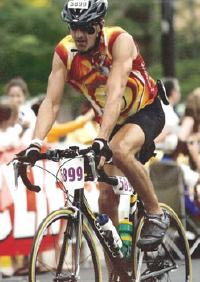 Barry Haarde
Occasionally, we here at TheBody.com are lucky enough to hear from readers who volunteer to craft their own articles sharing their stories and thoughts. This is one of those articles.
In the early 1980s, nearly 10,000 Americans with hemophilia, a rare blood-clotting disorder, contracted both HIV and hepatitis C from blood and blood products used to control bleeding. Of those, approximately 2,000 remain alive today.
In 1985, I tested positive for HIV, then called HTLV-III, at the age of 19. My brother and brother-in-law, both hemophiliacs, tested positive as well. My brother-in-law, Pat, lost his battle with AIDS in 1990, and my brother John succumbed to liver failure from hepatitis C in 2007.
As anyone who has tested positive for HIV knows, the diagnosis brings a great deal of uncertainty into our lives. How do we respond to the emotional burdens, physical challenges, and psycho-social pressures imposed by HIV? I have always relied on my faith and the support of family and friends to get me through the tough times, but I've also found solace and inspiration in an unlikely area for someone with hemophilia: bicycle racing!
In 1999, I had a knee replacement due to joint deterioration that resulted from many years of hemorrhaging due to hemophilia. My orthopedic surgeon informed me that my surgery and rehab would be more successful if I could get the muscles around the joint in better shape, so off I went to the local bike shop. I began with recreational riding on the neighborhood bike trails -- nothing too strenuous. Then, after my surgery and a few months of physical therapy, I began taking longer rides of around 20 miles. Then, I purchased my first road bike and joined a local bike club. I was soon able to complete 100-mile rides in five hours or less and found myself putting more miles on my bike than on my car!
I knew I was taking a risk riding in tightly grouped packs of riders, who often reached speeds of 30 mph. I had seen enough bike crashes to know what the consequences would be if I ever went down hard. But somehow, the thrill of competing in an athletic endeavor -- something I was unable to do as a kid with hemophilia -- made it worth taking the chance.
Advertisement
My involvement in cycling paid off in other ways too. In 2007, I learned that my liver disease had progressed to cirrhosis, caused by hepatitis C. I began interferon treatment, which can cause severe side effects, including fatigue and depression. Like many others with hepatitis C, I had delayed treatment because I "felt fine" and thought I was in the best shape of my life. During my treatment, I experienced weight loss, anemia, and allergic rash problems, but I was able to keep working and riding my bike. Studies show that regular exercise is as beneficial for the liver as it is for the heart, especially for those living with liver disease. I also use my cycling activities to raise awareness of HIV/hepatitis C in my local community, and to inspire others to go on "living strong" in spite of their medical problems.
In 2010, after nearly four years of on-again/off-again treatment for hepatitis C, I learned that I had, at last, defeated the virus, and would no longer have to contend with the side effects that had limited my cycling. I then decided to recommit to the bike, and on January 1st of 2011, I took off on a 110-mile bike ride to start the year off right! By the end of the year, I had ridden 8,100 miles and set some new mileage benchmarks, such as completing a 150-mile ride in one day, and riding 300 miles in three days.
I now have a new goal of becoming the first person with hemophilia to ride a bike across the United States, and I'll be taking that step starting on June 17. I began training this year by riding 1,000 miles in the first 13 days of January. I've ridden over 13,000 miles in the last 16 months. My ride across America will be devoted, in part, to helping to end the stigma associated with HIV, as well as a tribute and memorial to the incalculable number of lives lost to the AIDS pandemic.
Additionally, it will be a fundraising effort for Save One Life, an organization that provides much-needed assistance to people with hemophilia in developing nations who have little or no access to medications to treat hemophilia because of their high cost.
The Wheels for the World trans-American bike ride will begin on June 17 in Astoria, Oregon, and will finish on August 6 in Portsmouth, New Hampshire.
Barry Haarde, 46, lives and works in Houston, Texas, and lives with severe hemophilia A. He participates in numerous local cycling events, including the MS150 bike ride from Houston to Austin. He serves on the board of the Committee of Ten Thousand and the Lone Star hemophilia chapter. For inquiries, contact Barry at redsaleen97@yahoo.com or through his Facebook page, where you can also follow his progress in Wheels for the World.
Copyright © 2012 Remedy Health Media, LLC. All rights reserved.