In 2010, E. Tyler Crone, J.D., M.P.H., the ATHENA Network's coordinating director, and I had a very interesting conversation about the report Transforming the National AIDS Response: Advancing Women's Leadership and Participation, which highlighted the serious need for more female leadership and participation in policy making, as well as funding for grassroots HIV initiatives and programs that focus on women.
What the report's team of researchers found was discouraging. While the face of the global HIV epidemic is female, there was an alarming lack of female leadership in decision making, especially from HIV-positive women. This lack of involvement, particularly on a policy-making level, is so dangerous because, without direct input from HIV-positive women themselves, any initiatives are unlikely to be effective.
Fast forward to the present, and we find ourselves in the midst of serious local and federal budget cuts, in the middle of a serious war being waged on women and reproductive health, and on the cusp of the 2012 International AIDS Conference (AIDS 2012), which is why I thought this was a good time to revisit this topic together with a diverse group of female leaders in the field of HIV. We explore their experiences, whether or not we are seeing improvement in female participation in the HIV movement and their thoughts on the future of female leadership in the HIV movement.
Participating in this discussion are: E. Tyler Crone, the coordinating director for the ATHENA Network's USA branch; Naina Khanna, the director of policy and community organizing for Women Organized to Respond to Life-threatening Disease (WORLD); and Marsha Jones, the co-founder and executive director of the Afiya Center HIV Prevention & Sexual Reproductive Justice.
This is part two of the discussion; you can read part one here.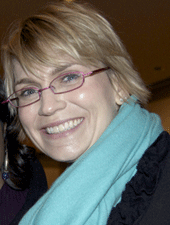 E. Tyler Crone, J.D., M.P.H.
Kellee Terrell: Knowing that we know how important including women in policies and conferences are, does it ever kind of shock you when there are really obvious omission or barely any representation? Such as the National AIDS Strategy or the AIDS 2012 plenary speakers? Or the fact that in its 17-year existence, the Presidential Advisory Council on HIV/AIDS finally just had their first meeting about women and girls.
Is the issue that they just don't get it because they are oblivious or do they get it, but get don't really care?
E. Tyler Crone: I think we'd win the lottery if we had the answer. [Laughs].I waffle between shock, anger, disbelief, and then becoming a cynic. Naina and Marsha, I'm really interested in hearing what you two think.
Naina Khanna: I believe that it's a few different things. Number one, it was a huge struggle to make that PASHA meeting even happen. And it really took a concerted effort from a large constituency of women to pull it off. And it took a concerted effort to move the other things that followed up from that meeting -- including the White House level meeting, including the announcement of the gender-based violence workgroup, and publicity around this workgroup -- to keep moving that agenda forward.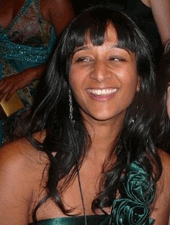 Naina Khanna
Yes, it was utterly shocking when the National HIV/AIDS Strategy was released and did not include any language on two issues that we believe are really believe are key to addressing the epidemic among women: Violence against women and sexual and reproductive health and rights of women living with, and vulnerable to, HIV. It was shocking that those went completely unaddressed.
I think that it shows a couple of things. I think one is that women living with and affected by HIV are not in the places where decisions are getting made most of the time. Or, if they are, it's in a token way, or it's in like a second or third in command kind of way. Secondly, sometimes other folks really don't have our back on this stuff. And that is just is really unfortunate.
You know, when we looked at the outcomes of the plenary presentation slots and the way that that decision making process went down, the decisions were made really fast on one afternoon, within a couple of hours. At the end of the time period we looked at it, the women looked at it, and expressed concern about the two-to-one ratio of male-to-female plenary speakers, the absence of positive women on the plenaries. And that concern was raised immediately.
But that, you know, that level of sort of concern or understanding is not consistently and just that type of analysis is not embedded enough among our colleagues to really move something forward without a very -- without a strategic agenda to do that, unfortunately.
Kellee Terrell: Marsha?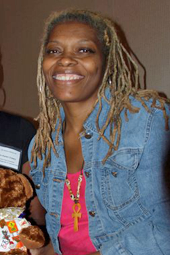 Marsha Jones
Marsha Jones: I've been in a constant state of shock, for about two years now you know. But I wouldn't dare say that these leaders were oblivious -- they know that they are doing. But an important topic that continues be brought up is the lack of women in leadership positions who are making these decisions. So if you get a roomful of people who are OK with what's going on, and there are maybe only two people who are saying it's not going on, that it's not OK, where do you think the power is going to lie? It's going to lie with the majority.
Naina Khanna: I have to agree. I think to some extent, it's intentional and to some extent it's not. But that doesn't mean that we're not all complicit. In the same way that, you know, racial bias is sometimes intentional and sometimes unintentional. But we are all complicit.
Exactly the same thing applies in this particular situation. And so when, for example, a group of women leaders can go to meet with the Office of National AIDS Policy and be told that there is a point person in that office working on women's issues, and she has a lead on women's issues; and then that individual is running the Power Points during the meeting, rather than substantively participating during the meeting. You know that is hard to see. It is very hard to interpret that in any way other than women's power is being undermined at the very highest levels of leadership.
Kellee Terrell: Wow. Talk about disempowering. So let's talk something positive. What are some things that you have been doing with your work and with your organizations that have been making an impact? What are you all doing that excites you right now?
E. Tyler Crone: I've been really happy to continue to see this work that these women and other are doing to continue to gain traction and gained footing -- and I think it resonates again with what Marsha and Naina had said about, if we can speak with one voice. So when Naina was talking about issues of access and economic, economic privilege, and you think about how that's being reflected globally, of task shifting back onto home-based care, and the economic burden on women; there's so much we have in common.
From the ATHENA side what has been incredible to see is the vibrant community of women leaders from the grassroots, moving from the bottom up, sharing strategies, finding areas of consensus and building a shared voice. One of the pieces that we've been involved in the past year and a half has been trying to foster and create space for, and collaborate with, a cadre of young women leaders who are living with HIV. I have been watching how that community is growing fostering and supporting those young women to be able to participate in some different global forums and to connect the dots and gain U.N. contacts so that their voices can reach and gain more strength in their own community as leaders in the HIV response.
And so I think one piece of working with young women leaders and creating space for intergenerational dialogue, creating space for leadership, participation, visibility at global forums, has been a really exciting piece.
And this work is just continuing. Even though it was an uphill climb to get a woman plenary, so many different women and men from across the U.S. and the world had a shared voice in saying, "No, it's not OK. We need a woman living with HIV plenary speaker. We need women of color from the U.S. visible, front and center. We need young women visible, front and center. And we need sex workers and people who are going to champion the rights of drug users and the whole gamut."
Marsha Jones: Just being able to have a women-centric organization is exciting for me, despite the lack of funding issues. But overall, I get to help meet the needs to women in my community, without anyone having somebody standing over me, telling me that I can or cannot do it.
And in this time, I've had the opportunity to work with Campaign to End AIDS and other grassroots organizations that have really given me the opportunity to work with women around the United States -- the ones who really need us most -- and bringing them in to develop them as leaders. And it's been successful. There's not a year since we've had our annual Women's HIV/AIDS Advocacy and Leadership Summit, where a woman hasn't gone back to places like the deepest part of Mississippi and before she left said to us, "You know what? I'm going to go back to my city, or my state, and I'm going to lead." That's always really great to hear.
I have an opportunity to see organizations, or see commissions being built, like 30 for 30 Campaign. I think that that is great, because it allows for small organizations like mine to sit at the table with a whole diverse group of women who, at the end of the day, have so many of the same goals, but we are coming from different places. And so it gives me more to reach from; and it gives me more to call on.
So it's those things that I'm really excited about seeing and I'm grateful to be a part of it, and to be a part of the change, not just women living with HIV, but women, period, especially black women.
Naina Khanna: PWN has been working to forge an intersectional agenda addressing HIV, sexual and reproductive health and rights, and violence against women. We have gained some traction, particularly as it relates to the intersection between violence against women and HIV. See the recently formed federal interagency workgroup as an example, and PACHA's recent resolution on women and HIV. However we continue to struggle to achieve meaningful commitments to moving a collaborative women's advocacy agenda on these three related issues. Some of this may be due to stigma, some due to a perception of the HIV community having a disproportionate amount of resources, and some related to the race/class issues I raised earlier.
But dove[tailing] on what Marsha was talking about: Change and agency… I was just thinking about a process that we helped catalyze and create around the United Nations high-level meeting on AIDS in 2011. And by recognizing that women weren't involved in the regional consultations that U.N. AIDS were organizing sufficiently, and that women should be able to speak to the U.N. process with their own voice, and with their own priorities, created a virtual process with regional focal points.
And what was amazing is this tiny, little process that we had really moved mountains. We had over a thousand women participate in this online survey, and women doing focus groups and doing what Marsha referenced a minute ago -- bringing from different experiences so there's more to draw from, and there's more to move with.
We ended up launching the action agenda that stems from that on the eve of the high-level meeting on AIDS at the U.N. It was the only session that was by women, about women, with predominantly women on the panel. And we had heads of state endorsing it and recognizing it. We had Alicia Keys and Annie Lennox sitting up there with young feminist women living with HIV from around the world. And we saw language and priorities. While, granted, it didn't have targets; it didn't have some of the teeth that we'd like to see, we actually saw the language shift in this one political declaration.
And so I think to take women speaking from their own experience, and to see movement in a U.N. document is still far from women's everyday reality, it was exciting. I think for the women involved to see that they were part of something bigger and part of something, yeah, that they could share, regardless of their walk of life, and with their multiple political identities.
Kellee Terrell: And so, final question. Are you all optimistic about the future?
Naina Khanna: Absolutely! We have the science to turn the tide on the epidemic. We have the knowledge and understanding to compassionately and professionally provide a high standard of care to people living with HIV. We have some promising data on women-controlled prevention options. Now it's up to all of us to secure the resources and participate in advocacy to make human rights, access to care and treatment, and prevention for all a reality.
Marsha Jones: You know, on one hand, I feel a little discouraged about some things. But on the other hand, I do see the light at the end of the tunnel. I mean, you know, it's dim; it's a crack right now. But I do see a little light. And I can see another opportunity, where we can start to develop younger women. And for that, I am excited, because I keep seeing more and more women saying, "I am not going to take this anymore." And with that, we are seeing more change.
E. Tyler Crone: At the end of the day, when one finds the way or, you know, when women create ways for other women to come together and share our strengths, big change can come about. And you see that: despite the odds, women making tremendous change and being incredible leaders. And this whole point of agency -- I think agency is key. We're agents of change, not just recipients of services.
Kellee Terrell is the former news editor for TheBody.com and TheBodyPRO.com.
Follow Kellee on Twitter: @kelleent.
Copyright © 2012 Remedy Health Media, LLC. All rights reserved.