The Future of Female Leadership in the HIV/AIDS Movement, Part 2
June 8, 2012
In 2010, E. Tyler Crone, J.D., M.P.H., the ATHENA Network's coordinating director, and I had a very interesting conversation about the report Transforming the National AIDS Response: Advancing Women's Leadership and Participation, which highlighted the serious need for more female leadership and participation in policy making, as well as funding for grassroots HIV initiatives and programs that focus on women.
What the report's team of researchers found was discouraging. While the face of the global HIV epidemic is female, there was an alarming lack of female leadership in decision making, especially from HIV-positive women. This lack of involvement, particularly on a policy-making level, is so dangerous because, without direct input from HIV-positive women themselves, any initiatives are unlikely to be effective.
Fast forward to the present, and we find ourselves in the midst of serious local and federal budget cuts, in the middle of a serious war being waged on women and reproductive health, and on the cusp of the 2012 International AIDS Conference (AIDS 2012), which is why I thought this was a good time to revisit this topic together with a diverse group of female leaders in the field of HIV. We explore their experiences, whether or not we are seeing improvement in female participation in the HIV movement and their thoughts on the future of female leadership in the HIV movement.
Participating in this discussion are: E. Tyler Crone, the coordinating director for the ATHENA Network's USA branch; Naina Khanna, the director of policy and community organizing for Women Organized to Respond to Life-threatening Disease (WORLD); and Marsha Jones, the co-founder and executive director of the Afiya Center HIV Prevention & Sexual Reproductive Justice.
This is part two of the discussion; you can read part one here.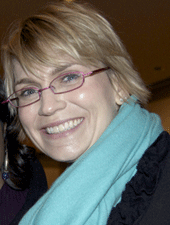 E. Tyler Crone, J.D., M.P.H.
Kellee Terrell: Knowing that we know how important including women in policies and conferences are, does it ever kind of shock you when there are really obvious omission or barely any representation? Such as the National AIDS Strategy or the AIDS 2012 plenary speakers? Or the fact that in its 17-year existence, the Presidential Advisory Council on HIV/AIDS finally just had their first meeting about women and girls.
Is the issue that they just don't get it because they are oblivious or do they get it, but get don't really care?
E. Tyler Crone: I think we'd win the lottery if we had the answer. [Laughs].I waffle between shock, anger, disbelief, and then becoming a cynic. Naina and Marsha, I'm really interested in hearing what you two think.
Naina Khanna: I believe that it's a few different things. Number one, it was a huge struggle to make that PASHA meeting even happen. And it really took a concerted effort from a large constituency of women to pull it off. And it took a concerted effort to move the other things that followed up from that meeting -- including the White House level meeting, including the announcement of the gender-based violence workgroup, and publicity around this workgroup -- to keep moving that agenda forward.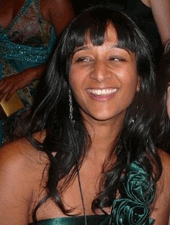 Naina Khanna
Yes, it was utterly shocking when the National HIV/AIDS Strategy was released and did not include any language on two issues that we believe are really believe are key to addressing the epidemic among women: Violence against women and sexual and reproductive health and rights of women living with, and vulnerable to, HIV. It was shocking that those went completely unaddressed.
I think that it shows a couple of things. I think one is that women living with and affected by HIV are not in the places where decisions are getting made most of the time. Or, if they are, it's in a token way, or it's in like a second or third in command kind of way. Secondly, sometimes other folks really don't have our back on this stuff. And that is just is really unfortunate.
You know, when we looked at the outcomes of the plenary presentation slots and the way that that decision making process went down, the decisions were made really fast on one afternoon, within a couple of hours. At the end of the time period we looked at it, the women looked at it, and expressed concern about the two-to-one ratio of male-to-female plenary speakers, the absence of positive women on the plenaries. And that concern was raised immediately.
But that, you know, that level of sort of concern or understanding is not consistently and just that type of analysis is not embedded enough among our colleagues to really move something forward without a very -- without a strategic agenda to do that, unfortunately.
Kellee Terrell: Marsha?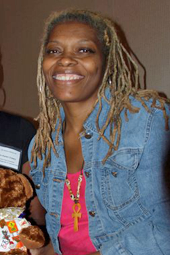 Marsha Jones
Marsha Jones: I've been in a constant state of shock, for about two years now you know. But I wouldn't dare say that these leaders were oblivious -- they know that they are doing. But an important topic that continues be brought up is the lack of women in leadership positions who are making these decisions. So if you get a roomful of people who are OK with what's going on, and there are maybe only two people who are saying it's not going on, that it's not OK, where do you think the power is going to lie? It's going to lie with the majority.
Naina Khanna: I have to agree. I think to some extent, it's intentional and to some extent it's not. But that doesn't mean that we're not all complicit. In the same way that, you know, racial bias is sometimes intentional and sometimes unintentional. But we are all complicit.
Exactly the same thing applies in this particular situation. And so when, for example, a group of women leaders can go to meet with the Office of National AIDS Policy and be told that there is a point person in that office working on women's issues, and she has a lead on women's issues; and then that individual is running the Power Points during the meeting, rather than substantively participating during the meeting. You know that is hard to see. It is very hard to interpret that in any way other than women's power is being undermined at the very highest levels of leadership.
More From This Resource Center
---

This article was provided by TheBody.
---
| | |
| --- | --- |
| No comments have been made. | |
Add Your Comment:
(Please note: Your name and comment will be public, and may even show up in
Internet search results. Be careful when providing personal information! Before
adding your comment, please
read TheBody.com's Comment Policy
.)