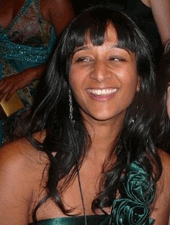 Naina Khanna
The second installment in a series about Americans of color engaged in leadership roles for the 2012 International AIDS Conference (AIDS 2012).
Naina Khanna is the director of policy and community organizing for the Positive Women's Network USA. She is a member of the AIDS 2012 Conference Coordinating Committee (CCC).
What is your IAC governance-committee role, and what does that mean both to you and to the movement in the U.S. that you are in the role as a woman of color?
I have the privilege of serving on the AIDS 2012 Conference Coordinating Committee, which is the body advising the International AIDS Society on the vision and direction for the conference. I serve in that capacity as a woman of color and as a woman openly living with HIV, working with HIV-positive women around the United States. I take that responsibility very seriously.
I want to ensure that the diverse voices, perspectives and leadership of people living with and most vulnerable to HIV are well represented in the conference. As a CCC member, I am responsible for ensuring that the conference responds to the diverse crises present in vulnerable communities and calls for leadership from the community members themselves.
Why is AIDS 2012 important?
AIDS 2012 comes at a pivotal moment in the epidemic. We have the science to end the epidemic. Now we need the political will, investment and compassion to do it and to do it right. Upholding human rights, including women's rights, is a moral imperative in all aspects of this struggle.
Leadership by civil society and especially people living with HIV is critical. In 2012 we should not still be arguing about proven interventions like federal funding for syringe exchange or a woman's right to choose -- let alone access to quality health care or HIV medications -- in one of the richest nations in the world.
Advertisement
What do you believe needs to happen to end the HIV/AIDS epidemic?
Ending the HIV epidemic will require serious commitment. It means obtaining additional resources and using them strategically. We know today that getting people living with HIV stably housed, into high-quality care and ensuring that they have access to treatment is the best way to prevent new infections.
High-quality care means care that is culturally appropriate and gender-sensitive and includes the full range of facilitative, psychosocial and mental-health services needed to promote wellness. And we can't end the epidemic without high-level leadership committed to ending HIV-related stigma, human rights violations and discrimination on all fronts.
What are you looking forward to at the conference?
I'm looking forward to raising the bar at home and abroad. Attacks on women's rights and immigrant communities have become present everywhere in the U.S. The National HIV/AIDS Strategy alone has virtually disregarded women and our sexual- and reproductive-health needs as a focus area. The conference must call attention to these critical issues.
I look forward to a chance to connect with and be inspired by many who have been leading the movement for justice in their various corners of the globe. I look forward to productive conversations that meaningfully involve a cross section of perspectives: civil society, including people living with HIV; the private sector; scientists; and decision makers.
Why do Black Americans need to attend and get involved?
For any issue, leadership by the most impacted communities must be primary. The U.S. epidemic is disproportionately Black. The HIV-infection rate among Black women alone in the U.S. is more than 15 times that of white women, and more than three times that of Latina women. Any domestic HIV response that does not include visible leadership by the Black community in its full diversity would be absurd.
Candace Y.A. Montague is the D.C. HIV/AIDS examiner for Examiner.com. She also writes for The Body, emPower Magazine and Capital Community News.