Women, Religion and HIV Kenya 2007
By Rev. Andrena Ingram

June 1, 2012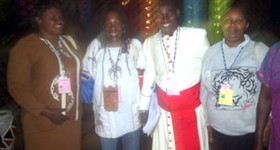 World YWCA International Women's Summit on HIV/AIDS, Kenya 2007: I am flanked by the Reverend Patricia Sawo of Kenya and Reverend Gideon Canon of Uganda, whom I met in 2006 @ XVI International WorAIDS Conference in Toronto, Canada. They put a face to HIV as religious leaders, fighting stigma. Very important in my formation.
Women, Religion and HIV
Reverend Andrena Ingram,
St. Michael's Lutheran Church, Philadelphia Pa,USA
In the name of Jesus
I'd like to take you on a small journey. I am sure you will find my methodology quite simple... and it begins with a story about a man who ministered to crowds of people, who cured every disease and sickness among the people and who proclaimed the message of God's kingdom -- that is, the good news of God's unfailing love.
That man is Jesus Christ.
... who also called together twelve disciples and gave them authority over unclean spirits -- to cast them out and to cure every disease and every sickness and to proclaim the same message.
That was over 2000 years ago, and as disciples of Christ -- we are still called to the same task, still given the same authority.
People living with HIV and AIDS are faced today with many illnesses and diseases -- which are not our own -- but affect us nevertheless.
These illnesses include: stigma and discrimination; fear, shame and silence (to name but a few). Unfortunately, these illnesses and diseases (demons if you will) are sometimes found within the very institution which proclaims the message of God's love.
These illnesses affect us -- because they have manifested themselves in people and institutions around us; sadly, the church has in some early instances chosen to focus on this disease as a subject of moral deliberation -- focusing on this disease as exploring the lifestyle of those infected.
Is it any wonder people chose to live in secrecy and in shame?
The good news, my beloved, is that Jesus the Christ never questioned those who came for healing... but healed them and sent them back into the very community which shunned them.
I understand very well the ramifications of stigma and discrimination. When I entered the candidacy process, my HIV status, which I disclosed openly, was questioned -- rather, my ability to keep up with the academics -- before "AIDS Dementia" set in. This concern was raised by an individual in the church office. I do not believe it was said maliciously, but rather, out of ignorance.
I found that as a result of that statement, I had to be healed of my own "inner stigma", which allowed me to believe the same thing. Again, it was ignorance.
At the 2006 AIDS Convention which was held inToronto, Canada, I drew strength from the Reverend Patricia Sawo of Kenyaand from the Reverend Gideon Byamugisha of Uganda. Both individuals put a face to this disease. More importantly, they put a face to this disease as "religious leaders living with HIV".
At the same convention, our Bishop Mark Hanson called for religious leaders to step up and identify themselves as living with the HIV/AIDS virus, in order to begin breaking the silence. All who attended were encouraged to make a promise to do whatever they could to keep the HIV/AIDS issue to the forefront.
I came out nationally in December 2006 and was featured in the "Lutheran Magazine" in an article called "Andrena -- Set Free".
I came out because I know that it is one of the first ways we can begin to eradicate stigma and discrimination. It is a way to eradicate the silence, the fear and the shame. It is a way to do as Jesus did: Teach and Heal.
Not only to those infected and affected. But to teach and heal communities also.
I do not wish to give the impression that the church is not doing anything. The church is getting better. Next month, the Evangelical Lutheran Church in America will come together to begin to formulate a church wide strategy on HIV/AIDS with many recommendations: including, but not limited to:
Rejecting categorically the stigma and discrimination that are sometimes associated with HIV/AIDS.
Providing a welcome in all aspects of church and congregational life to people living with or affected by HIV/AIDS.
Intensify their support for the second mile "Stand With Africa" campaign, as well as the broader "World Hunger Appeal".
To advocate to the US government for global leadership for universal access to treatment.
The religious community can begin to provide stronger leadership in slowing the rising infection rate among all people by leading by example -- this may entail speaking out -- getting tested and disclosing our own status.
The religious community can begin to make a difference by walking with those affected and infected by this disease:
"no questions -- no judgments"... just unconditional love and acceptance.
The religious community has changed drastically in the past 30 or so years. No longer is it a male dominated profession –women and religion are becoming a force to be reckoned with: in our communities and in our pulpits -- where our voices are needed and where our own theologies have been formed by our own life experience as well as the experiences of Mary and Martha, Ruth and Naomi, Sarah and Hagar, Miriam and Esther, Deborah and Huldah. These were women in some religious communities in the bible -- you may have your own women in your own contexts.
This is who we are today: Women with different names, from different countries, different religions and denominations, different in so many ways.
But we all share the same story in this place: it is a story of survival. It is the story of coming together to strengthen one another for the journey -- to listen to one another's story -- to speak up for those who cannot speak for themselves -- to be who God created us to be -- Children of the Most High God.
May God continue to bless us all and give us the strength to forge ahead in our journey against HIV and AIDS... .
Amen
Get email notifications every time this blog is updated.
---
| | |
| --- | --- |
| No comments have been made. | |
Add Your Comment:
(Please note: Your name and comment will be public, and may even show up in
Internet search results. Be careful when providing personal information! Before
adding your comment, please
read TheBody.com's Comment Policy
.)