Whitman-Walker Health Goes the Extra Mile
By Candace Y.A. Montague

May 30, 2012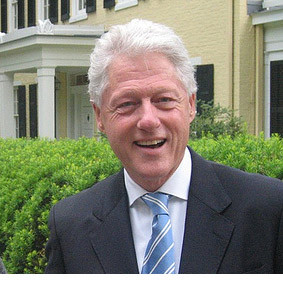 Former U.S. President Bill Clinton among the honorees at Going the Extra Mile. Photo credit: mayorhagedorn.blogspot.com.
Whitman-Walker Health honored four distinguished guests while celebrating the legal community last week in a benefit in Georgetown. The Going the Extra Mile reception highlighted the work former President Bill Clinton, ONE, Sheila C. Johnson and Susan Koch for their efforts to fight HIV.
Bill Clinton was presented with the Joel A. Toubin Award for the success of the William J. Clinton Foundation. The Clinton Health Access Initiative has helped more than four million people get life saving medications. He accepted the award via video. ONE Campaign was recognized for its diligent grassroots efforts to raise awareness about HIV and keep world leaders focused on maintaining access to treatment in Africa. Also filmmakers Sheila C. Johnson and Susan Koch were recognized for their outstanding work on the DC based documentary The Other City. The film debuted last year to rave reviews for it's up close and heart-wrenching showcase of the AIDS epidemic in the District. Susan Koch, director of the film said she was thrilled when she learned that Whitman-Walker wanted to honor her. "This is a tremendous honor because for so long Whitman-Walker has been at the forefront of providing treatment, prevention, and justice for people living with HIV/AIDS. I can't think of a more incredible organization to be honored by."
Don Blanchon, Executive Director of Whitman-Walker, explained how excited he was to honor the legal community. "It's our way to thank all the attorneys across the city who do work pro bono. There was a lot of thought given to the awardees around the fact that the International AIDS Conference is coming in July. President Clinton, ONE Campaign, Sheila Johnson and Susan Koch need recognition because they are leading the way."
The benefit raised more than $170,000 for Whitman-Walker Legal services. If you are interested in donating or volunteering with Whitman-Walker, click here.
Get email notifications every time this blog is updated.
---
| | |
| --- | --- |
| No comments have been made. | |
Add Your Comment:
(Please note: Your name and comment will be public, and may even show up in
Internet search results. Be careful when providing personal information! Before
adding your comment, please
read TheBody.com's Comment Policy
.)