Buffalo Bills Player Tweets HIV Test Results: Over-Share or Encouraging?
By Kellee Terrell

May 25, 2012
Earlier this week, Buffalo Bills wide receiver David Clowney tweeted a picture of his negative HIV test results with the text "Got My HIV Results Back!! Thank God for keeping my body healthy and safe."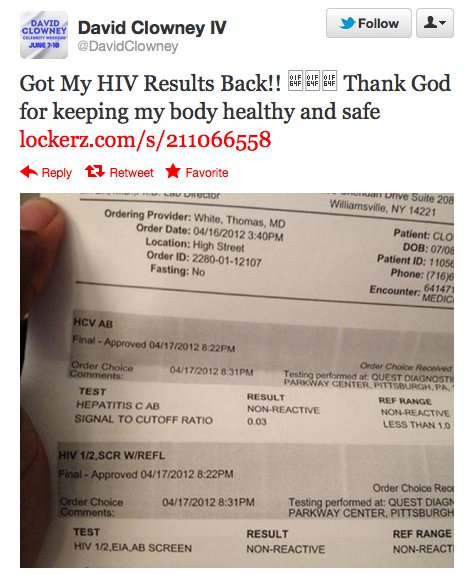 Credit: David Clowney IV, @DavidClowney, Twitter
And while plenty of individuals showed him love for encouraging people to get tested, I was really taken aback by the snarky and malicious responses he received.
One Twitter follower wrote, "Just putting ya number out there for everyone."
Josh Katzowitz, a CBSSports.com blogger, made fun of Clowney's actions and wrote, "But I'll make this pledge to you: the next time I have to undergo a urine test, the first thing I'll do is tweet out the results."
A reader commented on Katzowitz's CBSSports.com piece:
"This IS what is wrong with not only Twitter, but football player's [sic] as well. Is the only reason he has 9,000 twitter follower's [sic] and did this was because he slept with them all and had to report back to them with results. What better way to tell 9,000 women you banged than to say ... 'See, I'm Clean!' Player's first thought ... how can I get my name out there (good or bad), secondary ... who the heck cares how it makes me look. How did I spend this much time writing about someone I never heard off [sic]? Damn you David Clowney for making a stupid tweet, that had to draw our attention. Idiot!!!"
Zack Kelberman, on the sports blog Helmet2Helmet.com, really hit below the belt, referring to Clowney as an unheard of "nondescript" fifth-round draft pick who finally gets to be in the news for airing his business.
And look, part of me -- the everyday "Kellee who is not TheBody.com's news editor" -- rolled my eyes, too. It had nothing to do with what he tweeted per se. It was a knee-jerk reaction to the era of social media over-sharing that we live in. It seems like every other day, celebs (and celeb wannabes) are broadcasting the silliest and most irrelevant details of their already privileged lives for the whole world to see. Honestly, it really gets on my nerves.
But then the "Kellee that all of you know" took over and was like, "Wait a minute, what is everyone tripping about? Why should HIV testing be something that is regarded as TMI?"
Because let's be real: Had he tweeted about his cholesterol levels, cancer results or a sonogram of his unborn baby, no one would have reported on it, because it wouldn't have been "salacious" enough, and if they had written about it, there wouldn't have been this vicious response.
It's very obvious that stigma is the underlying culprit here. And it's so damn upsetting because here we are, 30-plus years into this epidemic, and people equate testing with being promiscuous and consider it something that should be done in secret.
Now granted, had he tested positive, he might not have been so quick to share those results, and I would never fault him for that. But we do need more messages around testing that don't always involve an "everything being fine" outcome. The reality is that while many people will test negative, some will test positive, and we don't have much for them in terms of messaging because we spend so much time reassuring everyone that they won't test positive.
But that isn't Clowney's fault, or his concern, and that shouldn't take away from the value of his actions. Clowney's tweet sought to destigmatize testing, which is huge. Clowney (who I strongly believe to be heterosexual) is also showing other straight men that testing is for them, too. Unfortunately, that's a public health message that has yet to be successfully articulated in the African-American community.
Over the years, thanks to limitations, such as a lack of data and an obsession with the down low, the black HIV epidemic has mostly been framed as a heterosexual black woman's and gay or bisexual black man's problem. So the more messages that include heterosexual men, the better.
So, Clowney, let the haters hate. All that matters is inspiring one of your 9,000 Twitter followers who may have been afraid to get tested or didn't think HIV was his or her concern to finally get swabbed.
What do you all think? Was Clowney's tweet an over-share or encouraging?
Kellee Terrell is the former news editor for TheBody.com and TheBodyPRO.com.
Follow Kellee on Twitter: @kelleent.
Copyright © 2012 Remedy Health Media, LLC. All rights reserved.
Get email notifications every time this blog is updated.
---
Add Your Comment:
(Please note: Your name and comment will be public, and may even show up in
Internet search results. Be careful when providing personal information! Before
adding your comment, please
read TheBody.com's Comment Policy
.)