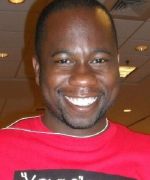 Charles Stephens
The promise of the end of HIV seems more like a reality every day. Over 30 years into the epidemic, we have witnessed unprecedented scientific breakthroughs and innovation. Much of this happened in the past few years and in the biomedical HIV prevention realm. As Co-Chair of the Emory University Hope Clinic Community Advisory Board, one of the sites of the HVTN 505 study, I have a front-row seat to the HIV scientific revolution.
The Hope Clinic is one of the clinical trial sites for the HVTN 505 study. HVTN 505, branded in Atlanta as the Life Forward study, investigates the safety and potential efficacy of an HIV vaccine in gay and other men who have with men, and transgender women. As CAB members we provide insights and perspective around recruitment strategies, research dissemination, input on grant proposals, and assist in identifying strategic partners to move research projects forward. One of our most important tasks however, is bridging the academy with the community. Members of our CAB include: HIV/AIDS service providers, community members, people that work with or specialize in African-American communities, women, transgender women, and gay and other men who have sex with men.
CAB members are indispensible to the research process. Along with researchers, we forge a partnership built on a shared commitment to ending the epidemic.
I became interested in biomedical HIV prevention research advocacy several years ago. I was invited to attend a national meeting hosted at the Los Angeles Gay and Lesbian Center. The meeting was convened by the Community HIV/AIDS Mobilization Project (CHAMP and brought together a diverse group of researchers and activists to identify strategies for how to best advocate for biomedical HIV prevention.
My background up to that point had been in HIV/AIDS community organizing and behavioral intervention implementation. The hope of a HIV vaccine seemed very abstract to me, so when I learned about all of the robust research happening, my interest was sparked. When the concept of the "HIV prevention toolbox" was introduced at the meeting, and the value of having multiple approaches to HIV prevention: biomedical, behavioral, and structural, it really struck me. Interventions must be coupled with each other for maximum efficacy.
Advertisement
Since then, I have become very interested in the development of HIV vaccines, and the advancement of biomedical HIV prevention, along with behavioral and structural approaches. I felt an urgency to see a vaccine developed for HIV, and this is what inspired me to join a CAB doing Vaccine research.
There are a number of substantial reasons to get involved with a CAB, particularly in the realm of biomedical HIV prevention, and vaccine research in particular. For one thing, to be able to ensure the interests and engagement of community members is key. Any successful research project requires various skill sets and perspectives so as to create the best and most impactful results. I have witnessed first-hand not only the significance of being involved in the planning of research grant proposals, but also the dissemination of data, including how to talk about and frame research findings and the best way to share them.
HIV vaccine researchers are responsible for not only facilitating the collection of data, and certainly analyzing the data, but also grappling with the implications of the data. This is significant because ultimately the implications of the data provide insights into conclusions that can be drawn and insight into the possibilities of future work and new directions. CAB members can offer considerably to this dialogue, and thus, the best ideas are brought to bear through diverse points of view.
As I reflect on my work on the CAB, this National HIV/AIDS Vaccine Awareness day, I am reminded of the enormous responsibility it is -- and how satisifying it is -- to be involved in the research process as a community advocate. Vaccines, along with the other tools in our HIV prevention toolbox, will bring us one step closer to an HIV free generation, and fulfill our potential and the promise to end the epidemic.
Charles Stephens is the Southern Regional Organizer for AIDS United.