A Conversation With Robert Murayama, M.D., Chief Medical Officer of Asian & Pacific Islander Coalition on HIV/AIDS Community Health Center (APICHA CHC)
How did you get involved in the HIV/AIDS field?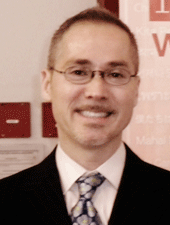 Robert Murayama, M.D.
I grew up in New York City and I came out as a gay man in the 70s. Even growing up in a city like New York, you still feel like you are the only one [who is gay]. I came across so many people who had similar values and outlooks on life, who happened to be gay, bi or trans and it was a very different experience. I had this new group of friends -- you can even call it a "chosen family" -- and the expectation was that we would all be there for each other in the long run.
And then it became very gloomy. People were becoming infected. It started attacking my friends and people I expected to grow up with more. All of a sudden, they just weren't around anymore. I kind of just woke up and came to the realization that people who were very similar to me were dropping dead and that I needed to do something. And when I was little, I always wanted to be a doctor and I figured at some point I would do that.
So I went back to school and then went to medical school and I was still very much interested in HIV work. I ended up training in medicine at Montefiore Medical Center in the Bronx and my mentors there were folks who believed in the importance of taking care of communities. They very much believed that HIV care was destined by the providers and back then, in the late 80s, there really weren't any medications that were available; so, for us, we were there to be there for them, and comfort them and help with the family. Most important, it was about helping people die with dignity. And that's how I learned to take care of people with HIV infection.
How did you become involved with APICHA?
I actually was peripherally involved with APICHA when it was founded in the '80s. It was founded by folks who saw that Asians living with HIV were often isolated, alone and didn't have anybody to care for or advocate for them. I was of the group that talked about the needs of this very invisible population.
I have been involved in APICHA as a physician educator, educating the staff over the years and also serving as a resource for the HIV-positive support group that they had in the '90s. But I only officially started working for APICHA in 2008.
Advertisement
Why is it important to serve the API community, especially here in New York City?
Like I mentioned before, the API community living with HIV is a fairly invisible community. Although Asians in New York City constitute 13 percent of the population, historically many Asians have been linguistically isolated. If you look at the statistics overall for New York City, 15 percent of the population is linguistically isolated, but for Asians it's closer to 50 percent.
Also, there is this whole model minority [stereotype] that we live under: That we are all doctors, rich, highly educated and have access to power, which may be true to some extent if you lump us all together. But when you look at the 13 percent population in New York City, a good majority of them are recent immigrants, linguistically isolated and often have their children interpreting for them. If you break it down by ethnic groups, there are 40-something Asian ethnic groups in New York alone. A majority of them are actually living below the poverty line.
Now throw in gay, lesbian, bi and transgender folks on top of that and the barriers become even higher and more unique, especially when it comes to health care.
I've also found that there is so much denial about HIV in the Asian community, especially among the Asian medical community.
That's incredibly interesting.
I remember years ago when I had an STD [sexually transmitted disease]. I went to see my physician who was a Korean-American doctor. He couldn't understand how I got an STD. He was like, "Well, you're not married?" And I said, "Nooooo."
We unfortunately have our own stereotypes and our own issues -- we are not above our own internalized homophobia and, unfortunately, I think that we can eat our own.
Also, Asians have the lowest rate of HIV testing in New York City ethnically. There was a study that was done by the health department a few years ago that showed that, if you are Asian, the likelihood that you would even be offered an HIV test by a primary care provider was slim to none. And if you have people who are linguistically isolated, most likely they are going to see a medical provider who speaks their language. So their chance of getting tested for HIV becomes even smaller.
What are some other barriers that the community faces in terms of HIV prevention, testing and treatment?
As I said before, a lot of folks are recent immigrants who may have come here for many different reasons, including being refugees. A lot of gay folks coming here from Asian countries have been persecuted and prosecuted so much that coming here there is so much instant freedom, but there is also a lack of understanding about the U.S. health care system, which is very different than that of other places around the world. Here it's very structured in terms of how you access it and I think that prevents folks from getting access to prevention and education, testing and even treatment.
I've also seen a number of gay Asian men who have been infected because they don't quite have the language skills to be able to negotiate safer sex and also I think that many Asian gay men have been battered in a sense that they don't have the right to insist that someone use a condom.
What are some of the specific ways that APICHA bridges those gaps? What types of services and programs do you offer to clients?
We do a lot of things.
First, I'll start with our medical services. Our medical services are actually the last and most recent piece of APICHA. Our medical services started as HIV primary care in 2003. We got a grant from the federal government to specifically do outreach and take care of the HIV-infected Asian population in addition to folks of color. From that we came to the realization that a lot of people not only wanted to receive care for their own HIV infection, but they wanted care for their family and their partners and their friends, who may or may not be HIV infected. We also received a small grant from New York state to begin to do primary care for people who have a high risk for getting HIV infection, but were negative.
Given that most of the HIV infections in the Asian community happen to gay men, or men who have sex with men, we are talking about sexual transmission, and so we started our primary care for HIV-negative LGBT [lesbian, gay, bisexual and transgender] folks in 2010.
Most recently, we opened up our transgender clinic. It is not HIV focused. It is really a wellness and prevention focused program. The clinic targets Asians, but other trans folks of color -- really, anyone who is transgender or gender-questioning/gender variant -- are welcome. Our goal is to engage people into primary care, because we believe that if more people have contact with the medical community, are up-to-date with their vaccinations, and are getting regular check-ups and STD testing, then they are less likely to engage in risky behaviors.
Another program that we are about to launch is an anal cancer prevention program -- and we are looking for anyone to give us money. We are looking to start a cervical cancer prevention program as well.
Another prevention program we have is an LGBT program, which is focusing mainly on getting young gay men in their teens mentored by older gay men, mostly men in their 30s.