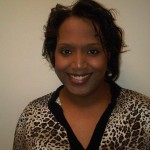 Andrea Lamour Harrington
My name is Reverend Andrea Lamour-Harrington. I am the Resource Coordinator for The Morris Home, a newly developed drug and alcohol treatment facility for transgender and gender-variant individuals here in Philadelphia PA.
I had to speak at a sensitivity training recently at a hospital here in Philadelphia. I was listening to one of the women speak when she struck a nerve so deep, it took everything in me not to shut her up. The meeting was on Cultural Diversity within the hospital staff and with patients. All in attendance were staff, so can you explain to me why did this woman have the nerve to say to me that she had a problem with her friend's decision to transition from female to male in appearance. This particular woman went on to say that it bothered her and made her uncomfortable to call her friend by a masculine name. If this is how she feels toward a friend, how do you think she feels toward a stranger that comes into treatment?
Every 9-1/2 minutes someone is diagnosed with HIV and if the very people who are the providers of medical care cannot get past their own feelings and opinions, how do you think the needs of our trans individuals are being met. Being trans is not a decision, it is who you are. When treating a client, we as providers have to remember that it is not about us it is all about the client and what they need. As with this woman and her friend, it is not about her it is her friend's life and at the end of the day her friend should be allowed to be whom she is without conditions attached.
We as providers will do more harm than good if we try to treat every patient with cookie-cutter mentality. Each client is an individual, and anyone who is brave enough to seek treatment should be allowed to do so without consequence. If I am in trouble or if I think for one minute that if I ask I will be shot down or judged, I just will not ask. When we force that type of thinking into place with our marginalized parts of the community we put a large number of people in fear and with that fear being in place they will not seek HIV testing, treatment, or resources. No one should live in fear, and I say that as a provider if you are not part of the solution, you are part of the problem. Being trans and African American it is difficult to get past the drama of everyday life. With that being said the added pressure of ignorant, judgmental people puts a road block up that creates a wedge between any positive outcomes in public health and the very people that need services the most.
This year is significant in the fact that the International AIDS Conference is being held in the United States and we as women of the trans experience, we as African Americans, and we as the most likely to suffer at the hands of ignorance, need to show up and show out for the 2012 IAC in July. We need to speak-up, we need to learn, we need to educate and recreate a positive solution for treatment and prevention strategy to lower the numbers of the most affected portion of our community when it comes to HIV infection. If you would like to be a part of the solution to HIV, show up and become a soldier in the war against HIV, July 22-27th 2012 in Washington D.C.
None of us is free if others are suffering. Join the fight!