My Early Strength
By Rev. Andrena Ingram

April 15, 2012
Happy Birthday BruShonna!
Today is my eldest daughter's 31st birthday, and this post is dedicated to her.
A lot of people always compliment me about how strong I am, in my disease. This was not always the case. In truth, it is because of my children. Most of us, if we cannot find the strength to live for ourselves, carry on expressly for our children. Upon learning of your diagnosis, to hear those words (or words to the effect): "I'm sorry to tell you, you have tested positive ..." is life changing! Life altering! Most of us long-term survivors can remember everything about that day ... the color of the room, what was on the walls, "that look" of the person telling you. It takes time to work through those words ... to acknowledge and own those words and what they mean. Some of us are successful at it. Some of us are not -- choosing instead to live in a world of denial, drugs and unhealthy behaviors. I admit that I almost fell into that category. I did not go back to drugs and I certainly was not in denial. I had buried my husband (not that I contracted it from him) and witnessed first hand the effects of denial and shame and all those self-stigmatizing words. The feelings behind those words kill. They kill your spirit and can take away the spirit to live. I fell into a deep depression.
A deep depression. I fell into a "woe is me" state of mind. Fell into a crevasse and really got kinda comfortable there. I can't begin to imagine what that must've looked like to Shonna.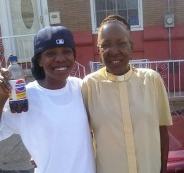 Shonna and me.
I don't remember the exact situation which prompted this comment from her, but I must've been having an extended "pity party" ... when she said to me: "you can't continue to use having HIV as an excuse." Wow! Her statement made me mad. Not because she had the nerve to say that to me, but because she was right! I couldn't continue to use having HIV as a reason not to live. She was right, and it took me a minute to pull myself together. Won't say it was easy. Giving up would've been much easier, deciding to live is harder. Shonna helped me. She was my early strength. When she began having friends over, she would let them know that her mother had HIV. If she got the inkling of a feeling that someone was being judgmental or if someone "changed up" after finding out, Shonna had no qualms about dropping them.
Shonna is my firstborn ... Shonna is my "early strength." Gave me joy with her birth, and joy (and yes, sometimes heartache) and strength as she grew/grows into the woman she is today, and the woman she will be tomorrow.
So, happy birthday, Shonna ... and thank you for helping me to live.
Get email notifications every time this blog is updated.
---
| | |
| --- | --- |
| No comments have been made. | |
Add Your Comment:
(Please note: Your name and comment will be public, and may even show up in
Internet search results. Be careful when providing personal information! Before
adding your comment, please
read TheBody.com's Comment Policy
.)