Listen to Audio (42 min.)

"It's been a very enlightening diagnosis, as well as one that, at first, was a very discouraging one," says Bernard Jackson. He's come a long way since 1999, when his wife passed away in the hospital mere weeks after testing HIV positive. "Because of the medical reports, the blood work: All those things tell me that because of her being in an AIDS diagnosis so early on, that she had been living with her virus before we met," Bernard remembers. He was also diagnosed HIV positive at this time, but he was so consumed with shock, loss and the need to stay healthy for his young daughter, that years went by before he was able to process his own diagnosis. Educating and supporting others through telling his own story was what finally helped him begin to move on -- and led him onto a new path in his career. "That's how I started kind of building myself back up ... and seeing that what I thought was the end for me was actually a beginning."
Bernard, welcome to This Positive Life.
Thank you so much for having me.
Can you start by describing how you found out you were HIV positive?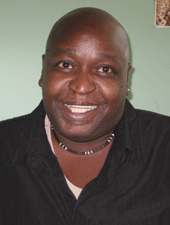 Bernard Jackson
I found out I was HIV positive after my wife tested positive, and had actually progressed to an AIDS diagnosis. She became very ill and we took her to the hospital, and she was diagnosed with AIDS. So I found out through getting tested at the recommendation of her doctor.
Did they have a sense at that point of how long she had been HIV positive before she was tested?
I don't know exactly how long. I really don't remember if they even told me, just because of the mere shock of it. I wasn't really too aware of all the details. But she had obviously been sick for quite some time, because she passed away from those complications not long after -- approximately three to four weeks after her diagnosis.
What did you think, and how did you feel, when you first heard that you and your wife were both HIV positive?
She was in the hospital when the doctor suggested that I go get tested. My first thought was to be there as a support system for her. In the next day or so, I did go and get tested. I think that test was first done on a Monday. I had to make the decision to remove my wife from her life support that following Thursday. I found out the following Monday that my test had also come back positive for HIV.
"Because of my T-cell count and viral load, the time frame appeared to be that I had actually contracted HIV from my wife during our four-year relationship."
The one thing I do remember is that because of my T-cell count and viral load, the time frame appeared to be that I had actually contracted HIV from my wife during our four-year relationship.
It was a feeling of shock. I was so involved in grieving for my wife that I didn't really know how to feel. I just knew that I had to deal with the process of grieving her loss, raising my daughter. Then approximately two weeks later my mother passed away suddenly. And so there were a lot of things that didn't allow me to focus on my diagnosis. It was just: "Give me my medicine; let me take the pills; let me make regular appointments; let me try to stay healthy." There was just so much other stuff going on that I just did what the doctor told me.
How old was your daughter at this point?
At the time that my wife passed, my daughter was 8. I did not tell her exactly what she died from, although she knew that my wife was sick because she had diabetes. Her diabetes stayed out of control a lot -- now we know it was because of her HIV status. But my daughter only knew at that time that her mother had problems with her diabetes. She believed, at that point, that that was what caused her mother's death.
She handled it very well, because we've always been a very strong people, with our faith. My wife had talked to her about death and dying, and how to handle that. I still didn't reveal to her that I, too, was positive, because she was so young. I just wanted to try and let her have as normal a life as possible, hoping that when she was ready to talk about those things that we would.
One night we were having our father-and-daughter monthly discussion. She said, "Daddy, I want to have our talk tonight." And we started the conversation off with, "Well, Daddy, first of all, I want to let you know that I know that you're HIV positive."
And I said, "Oh, really?"
Advertisement
She said, "Yeah. I heard my cousin talking, and he told me what happened to Mommy."
She wasn't our biological child. We actually had legal custody of her, and were in the process of adopting her. So she was not affected physically by the virus. But she had overheard her relative speak about it. I asked her how did she know about me. She said, "Well, we learned some things in school, and I went in the drawer and found your prescriptions. I went online and found out what they were for."
So she pretty much was educated through the school system -- and some family members -- as to what my status was. Since then it's been wonderful, because it was such a burden lifted. She's handled it very well since then.
She was 8 when you were diagnosed; how old was she by the time she found out you were positive?
At that time I think she was probably about 13, maybe 14. Ever since then it's been an open book about my HIV status with her. I must say that it's been a big support, early on, in my life.
At first, one of my biggest concerns was: How would I tell my mother? Unfortunately, my mother passed away before I got an opportunity to tell her. So then there was my daughter. I was really concerned about how it would affect her life and her going to school, and being worried about me. But it's been a wonderful blessing, to be able to have that openness with her. It's something that I encourage a lot of people to do: to find that one person in your life that you can talk about this virus with. Because it can be a very lonely experience for someone, without having that support.
Your daughter must be in her mid-20s by now. Did you talk with her about safer sex, and protecting herself, and HIV risk, when she was growing up?
All the time! One of my family members came to my home one day and they were a little bit offended, because I had a beautiful hand-woven basket in my bathroom. And it was full of condoms.
They said, "Don't you think that's a little bit much to have around your daughter?"
And I said, "My daughter is well aware of the proper use of them. I think it's important that she has them available for her, if she ever needs them." I am a strong advocate for abstinence. That's one of the things that I have encouraged for her. But she did, in fact, have a baby a few years ago. She has a son.
One of the things that I always laugh about is I tell youth to make coming and getting tested a part of dating. If you want to date someone, why don't you all come in and get tested, so you know where you are?
My daughter didn't come to where I work, but she went to another location in Virginia, and she and her boyfriend got tested, and she made the decision that they were going to engage in sex. So she's had a lot of knowledge about it. And she has, in turn, shared her knowledge with some of her friends. Fortunately she is using protection now, but she had that opportunity to get as much knowledge as I could share with her. And through the work that I do, she has read a lot, and knows a lot about it. So I'm hoping that she continues to do the best that she can and be safe.
What was the first thing that you did that you feel really helped you come to terms with your HIV diagnosis?
The first thing that I did when I was informed of my wife's diagnosis is, when I did leave the hospital, I went directly to my spiritual advisor, and I informed them of what the situation was. Like I said, I relied, and still rely very heavily, on my faith to deal with this virus. And that was the one thing that we did. We prayed for each other. We prayed that our faith would continue to give me strength to deal with what I was dealing with.
"The grieving process, and finding out my HIV status, just kind of made me a little withdrawn from family and some friends. But the main thing was I was focused on trying to keep healthy. I wanted to be healthy for my daughter."
The grieving process, and finding out my HIV status, just kind of made me a little withdrawn from family and some friends. But the main thing was I was focused on trying to keep healthy. I wanted to be healthy for my daughter. So the medication was the first thing I started with, educating myself about what the medications were, what the side effects to them were; and the benefits of them outweighed all of the side effects. So that was the first thing I did, was start immediately on medication. But relying on my faith a lot to help me deal with it.
My first regimen was Combivir (AZT/3TC) and Sustiva (efavirenz, Stocrin). One of the side effects that I know I dealt with a lot was the crazy, vivid dreams, and anxiety. It eventually passed.
That's one of the things that I try to share with people, as well. Some people think that the side effects are so overwhelming that they get discouraged. And I know that each individual is different. But the side effects lasted for probably two to three months, and it kind of made the depression a little bit more enhanced. But according to my doctors the medication was doing what it needed to do. And as long as the HIV was staying under control then I felt like I could deal with some of the side effects. It helped to understand why I was having the anxiety attacks -- what I thought at that time because of the experience that I'd had was that, if I can keep my life, then I can deal with some of these side effects. But it was a little tough.
I've moved on from that regimen to Atripla (efavirenz/tenofovir/FTC). So it's still the vivid dreams, it's still some of the anxiety. But the virus is being controlled, so I'm thankful for that.
I took a "drug holiday," as they call it, in between going from Combivir and Sustiva to Atripla. I took about a month. Understanding the toxicity of the medication, and that there are long-term side effects that we still may not be aware of with those medications, I felt like I wanted to just see where my body was. What was my body capable of doing on its own? Because I got started on the medication so quickly. I just wanted to take a break from it.
When I did that, my viral load had kind of changed a little bit. That's when we talked about the Atripla. I've been on the Atripla, now, for several years. I have not discussed with my doctor about changing medications, because I felt I could handle the side effects, to a point. I found out with the Atripla that it does make depression a little bit more difficult to keep controlled, so I've gotten on some antidepressant medication. But since it's controlling the virus at the rate that it is right now, I haven't really discussed changing it at this point.