Bernie Sanders Bill Funds Global AIDS Drugs by Patent Buyout
May 10, 2012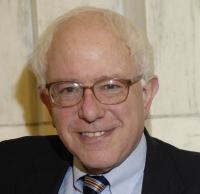 Vermont Senator Bernie Sanders
Housing Works has been advocating (along with our friends at VOCAL-NY and Health GAP) for a global Robin Hood Tax -- a small tax on the wealthy that would create a fund for HIV treatment access for people across the globe.
Vermont Senator Bernie Sanders has introduced a bill that will soon be analyzed by the Congressional Budget Office that would do something very similar!
The Huffington Post reports that the bill S.1138 which has been proposed by Nobel Prize winning economist Joseph Stiglitz, "would set up a $3 billion-a-year prize fund to buy out existing and future patents for AIDS drugs. The fund would compensate drug companies and researchers for their work. The patent would then be placed in the public domain so the drug could be sold in the free market as a generic. AIDS patients would no longer have to struggle to find ways to pay for their drugs; they would be sold at prices comparable to other generic drugs."
HuffPo writer Dean Baker also points out the incredible savings, noting "we spend close to $300 billion a year for drugs that would cost around $30 billion in a free market. The $270 billion difference is approximately five times as large as what is at stake with extending the Bush tax cuts for the wealthy."
On July 24th, Housing Works will be participating in the We Can End AIDS Mobilization in Washington, DC, advocating for these kinds of policies to end the AIDS epidemic. Join us there to make your voice heard!
---

This article was provided by
Housing Works
. It is a part of the publication
Housing Works AIDS Issues Update
. Visit
Housing Works' website
to find out more about their activities, publications and services.
---
Comment by: norrisreber
(Long Beach, CA) Thu., May. 24, 2012 at 3:13 pm UTC
When I retire I will have to live outside the US because of cost of living. One place I am looking at is Vietnam. I hope to be able to move there. I googled the cost of HIV meds there and it was saying the VN Government is starting a program to help theit citizens pay for meds. It said others will have to pay $900 a year for the meds. $900 A YEAR!!! Here in the US ONE med cost more than that a month. I hate to say it but we have to have these meds to stay alive, and we are getting screwed!!!!
Comment by: Stan
(Stanstantheman@hotmail.com) Wed., May. 16, 2012 at 3:10 pm UTC
I couldn't read the full text of the bill. Are we talking about a 3 billion dollar buyout to push zerit into generic status, or a 3 billion dollar x prize for the development of new, "non-inferior" drugs that are automatically generic? If the former, the drug companies would be fools to pass this opportunity by, and cash strapped ADAPs will be passing out Hivid by the end of the year. If the latter, he's calling their bluff about how much it costs to develop this stuff, and this bill will never see the light of day.
Comment by: Bill
(NY) Tue., May. 15, 2012 at 6:48 pm UTC
That is a good solution. The problem is we got cartels. What we are dealing with are insurance/big pharma cartels which are even more powerful than a Senator. You could go outside the USA and buy the same drug for much cheaper..
Comment by: Russ
(North carolina) Mon., May. 14, 2012 at 7:11 pm UTC
God bless Senator Sanders! If i had to pay out of pocket for my meds my yearly cost would be 47,468.08! This is an outrageous amount for just my meds..nothing else...not my MDs fees, labs etc.etc.... just a few pills! Thank god i have good insurance! Who can afford such treatment without assistance of some kind? Very very very few...only the wealthy sadly! Now, i know research is expensive and drug companies need to make some profit..... but almost 48,000 dollars a year?seriously? Many folk do not even make that much total salary period!
Add Your Comment:
(Please note: Your name and comment will be public, and may even show up in
Internet search results. Be careful when providing personal information! Before
adding your comment, please
read TheBody.com's Comment Policy
.)