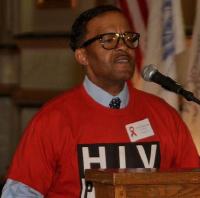 Arick Buckles
In the 2009 November/December issue of PA, AIDS advocate Arick Buckles was profiled. Two and a half years, a few job changes, and a pending lawsuit later, PA caught up with Arick to find out where his journey has taken him since then.
What's been happening in your life since our last interview?
AB: Well, the last time we talked, I was at Chicago House, then I came here [TPAN], then I went to the CORE Center [the Ruth M. Rothstein CORE Center, a clinic for the prevention, care, and research of HIV/AIDS], and now I'm back at Chicago House. I'm a Housing and Prevention Specialist there.
Excellent! Are you glad about that?
AB: I am glad, because I like helping people -- those that are homeless, the most vulnerable -- get into stable housing. We know that housing is pretty much healthcare, it's prevention, housing is a human right, so I'm really excited about it.
How would you say your work days differ now from when you were at CORE?
AB: This job allows me to work directly with clients in need and also gives me the flexibility to do the advocacy work that I'm so passionate about.
So tell me about your advocacy work.
AB: I'm the Co-chair of the Illinois Alliance for Sound AIDS Policy. We're a group of 15, part of a strategic plan through the AIDS Foundation [of Chicago] to form a body of advocates and we're placed throughout the state of Illinois. We all live in different parts of the state and we can speak to the specific needs of our communities. We come together on a monthly conference call, we do quarterly retreats, and we just recently had our annual HIV/AIDS Lobby Days, which I'm hoping will be successful. The verdict is still out on the effectiveness of our advocacy and what will really happen. Six weeks from now is when our legislators will vote on the issues of what gets cut and what doesn't and Lord knows we don't need any HIV/AIDS services cuts.
Advertisement
No, we don't.
AB: People are still dying. People are still getting infected with HIV. People are still homeless. People are still faced with mental health issues. We've got a growing transgender population who's been really ignored and a lot of those are the clients that I'm actually serving down at Chicago House. There's a lot going on, a lot.
Tell me about that t-shirt campaign. Give a plug for that.
AB: The anti-stigma campaign was started about a year ago and it's still up and going. To date, we've sold or gotten donations for over 500 t-shirts. People all over the country have jumped on the bandwagon to fight HIV and AIDS stigma with this bold campaign, wearing the bright red t-shirts that say "HIV Positive" in black letters. We got the idea from the Greater Cleveland AIDS Task Force, and their ED Earl Pike gave us his blessing -- I thought that was huge. But the campaign originated in South Africa ...
Yes, TAG, the Treatment Action Group.
AB: Right -- the campaign's been a huge success. All the monies from the t-shirts are how the IL ASAP functions -- advocates aren't paid, we're volunteers -- so the money pays for all our retreats, reimburses travel expenses so we can meet with legislators, and things of that nature.
Does IL ASAP have a website where people could donate or buy a t-shirt?
AB: Oh, sure. It's www.aidschicago.org/ilasap.
As chronicled in the 2009 profile, Buckles spent some time behind bars before turning his life around and becoming a "kick-ass advocate." Though he speaks honestly about his "not-so-productive life" when he did what he had to do to survive, including writing bad checks, he did his time and has lived an exemplary life since being released from prison. However, an outstanding warrant issued just short of seven years ago (statute of limitations is seven years) in downstate Illinois caught up with him when he was asked to be a spokesman for the National HIV/AIDS Strategy on the importance of getting and staying in care and they evidently checked his record and told him that due to the warrant, he wasn't eligible to participate. He hired an attorney, who discovered that there were actually two warrants, one in DuPage County and one downstate in rural Bureau County. While being held in DuPage County, the Bureau County sheriff came and transported him to that jail, where he was held for seven days and denied access to his HIV meds, even though he informed the jail administrators that he was HIV-positive and he knew he had a constitutional right to treatment while incarcerated. Looking back, Buckles reflected that the people at the DuPage County jail were much more knowledgeable about HIV and its treatment than those at Bureau County.
What surprised you the most?
AB: Oh, boy, I'll tell you, I lived stigma like I'd never seen it. My clothes were separated, put in bags with "HIV-positive" written all over them. I had fingernail clippers in my personal items and they separated them and wrote "HIV-positive nail clippers" on them -- it was totally insane.
From start to finish -- DuPage County had documented that I was HIV-positive, they told me that my medicines would follow me there [to Bureau], however, when I got there, they wouldn't buy it. They knew almost nothing about HIV or how it was transmitted. It was a very, very small town and I'm not angry with them. I felt more sad or sorry for them and their lack of education about HIV and people living with it and what their needs are. But for seven days, I was detained, not given medications, not allowed to see a physician and on the seventh day I was informed in the evening that they were going to let me go because they couldn't afford to give me those medications.
I did have great support on the outside. I had family members, my partner, a reverend friend of mine, folks from the AIDS Foundation all calling the jail, but they just weren't willing to hear it. So they let me go because they couldn't afford the medicines.
Advertisement
Wow! You have to wonder if there are any more HIV-positive inmates down there who aren't getting their meds either.
AB: Yep, that is a concern. Like I said, it's a small town and maybe people would know them when they went through the intake process. But I know the importance of taking my medications, I know I have to take them in order to keep talking, to keep advocating. I know that I need those to live, so I knew the importance of letting them know my medical history.
So you got out of that horrible place and ran straight home and went right to your doctor and said, "Well, let 's see if anything happened during those seven days."
AB: Right! And thankfully, my labs did not change. But I still go in and meet with my physician and she's monitoring me closely, because we don't know what the long-term effect might be of those seven days of missing medications.
So, did you decide to contact the ACLU or did they contact you?
AB: Well, I'm affiliated with several AIDS service organizations and I guess it was through word of mouth that the ACLU found out about it and they were interested in talking to me so that's how that connection came about. I was introduced to an awesome attorney there, John Wright, and I followed through, looked into it, and found out that my constitutional rights were violated. They wanted to pursue it and now it's a pending court case.
Do you have any idea of how long it's going to take before it's resolved?
AB: I don't know, but I would accept a resolution as simple as them getting the education they need. That would make me feel good, because I hate to think of any other HIV-positive person going into that jail and not getting the medications they need.
Well, I hope it turns out well and they do get the facts! Switching gears a bit, as you may know, Illinois passed a law requiring all state prisons to offer opt-out HIV testing. I was wondering how you feel about that.
AB: My first reaction is, is it really opt-out? I'm concerned that testing could be done without an inmate's knowledge or consent. Of course, it's good for everyone to know their status, to get into care and stay in care, but I worry about all the ways it could go wrong.
I know one of your most passionate causes is getting people to realize how important it is to not just know their status, but to also get into established care, take their meds as directed, and do what they need to to stay on top of their HIV. What advice would you give to someone who's about to be released from prison, but has little or no support on the outside and no transition program at the prison?
AB: Hmm ... I guess my first recommendation would be find an HIV/AIDS service agency. They can not only refer you to qualified medical providers, but they can connect you with case managers, housing specialists, job training, food, support groups, all kinds of things you'll need. You can't just sit there and feel like, "I'm all alone with this disease." You're not alone. There are people out here who are waiting to help, some of them who have been exactly where you are. Look in the phone book, use the Internet, talk to other HIV-positive folks. It's not that hard to find us, and you'll be better off if you do.
Got a comment on this article? Write to us at publications@tpan.com.