Jim Geary: Delicate Courage
By Robert Breining

May 10, 2012
This Sunday April 29th, I spoke with the author of Delicate Courage, Jim Geary on POZ I AM Radio. I first met Jim Geary and his partner Jeff Allen at the PL14 Conference. I felt an instant connection with them. Sometimes you meet someone it feels like you met them before or knew them your whole life. This is how it felt for me. I was so happy to reconnect with them again this year at PL15 and I took it as a sign to have Jim on my show.
Jim Geary moved to San Francisco in 1974 and began working as a nurse's aide on an oncology floor. Because of his reputation and ability to provide compassionate interaction and nurturing touch he was frequently assigned to patients who were in the process of dying. During this period Jim also continued his political activism in San Francisco working with Supervisor Harvey Milk and others to defeat the anti-gay Briggs Initiative, which sought to fire all gay and lesbians teachers in the state, as well as non-gay teachers who associated with them.
Jim volunteered for Shanti Project in 1978 as an emotional support counselor working with people and loved ones who were facing a life-threatening illness. In a few months he became director of volunteer/client services. In October 1981 he formed what was to be the first support group for individuals with AIDS in the world.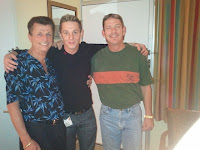 Jim Geary, Robert and Jeff Allen
When Shanti Project lost its funding in 1982, Jim volunteered to work for no money to keep the organization afloat while he sought funding for the AIDS services that were so desperately needed. Serving as executive director for seven years he oversaw and developed this premier agency into an internationally acclaimed model of AIDS services which included: an emotional support program, practical support program, residential program, San Francisco General Hospital AIDS unit counseling program, AIDS information and referral program and the recreational activities program.
He is recognized internationally as a respected trainer on the psychosocial issues of people with AIDS, grief counselor and leader in the development of AIDS services. Jim has been a resident of Ormond Beach since 1989 where he has continued to provide training and service to local AIDS organizations. Jim shares his life with his lover, Jeff Allen, and their two Pomeranians Jasper and Benji.
Learn more: www.delicatecourage.com.
Get email notifications every time this blog is updated.
---
| | |
| --- | --- |
| No comments have been made. | |
Add Your Comment:
(Please note: Your name and comment will be public, and may even show up in
Internet search results. Be careful when providing personal information! Before
adding your comment, please
read TheBody.com's Comment Policy
.)